Some say age is an issue of mind over matter at Oasis Day Spa they say age is a matter of the best facials, peels, and wrap treatments Westchester has to offer!
Today I had the ELEMIS BIOTEC FACIALS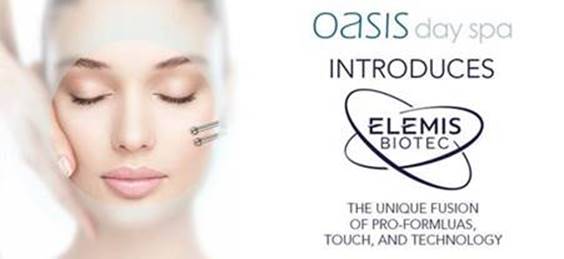 A synergistic energy force of unique high-potency actives, skin-lift touch and advanced technology. These three treatments incorporate a luxurious pampering facial with 5 state of the art technologies (Micro-Current, Galvanic, Light Therapy, Oxygen Infusion & Ultrasonic) targeting specific skin needs that visibly transform the skin to achieve new levels of beauty, health and radiance. Choose from 3 phenomenal available treatments: Line Eraser, Skin Resurfacer or Firm-A-Lift.
60 Minutes – $250
The Elemis advanced technology has been clinically proven to show age defying benefits by targeting fine lines and wrinkles. The service is also used to treat oily, congested, and hormonal skin.
It's hard to really review a facial.   But I will tell you that my skin looks and feels amazing. The aesthetician was thorough, she cleaned and exfoliated my skin to perfection  and there was some massage thrown it for extra relaxation. Especially after this beautiful summer we just had my face was craving a little TLC.
Oasis Day Spa is excited to bring to you their annual Oasis Week, kicking off on October 17th – October 21st – because you deserve more than the usual.
Experience Oasis Week -Why limit yourself to just 3 basic services, when you can try ANY of their services at a discount? Enjoy 15% off their menu price on ANY spa service including massages, facials, hydrotherapy, waxing and more!