Now There's Hope! Procedure Is Less Invasive, Less Traumatic
Helps Restore Shoulder Mechanics
Patients Report Positive Results And An End To Chronic Pain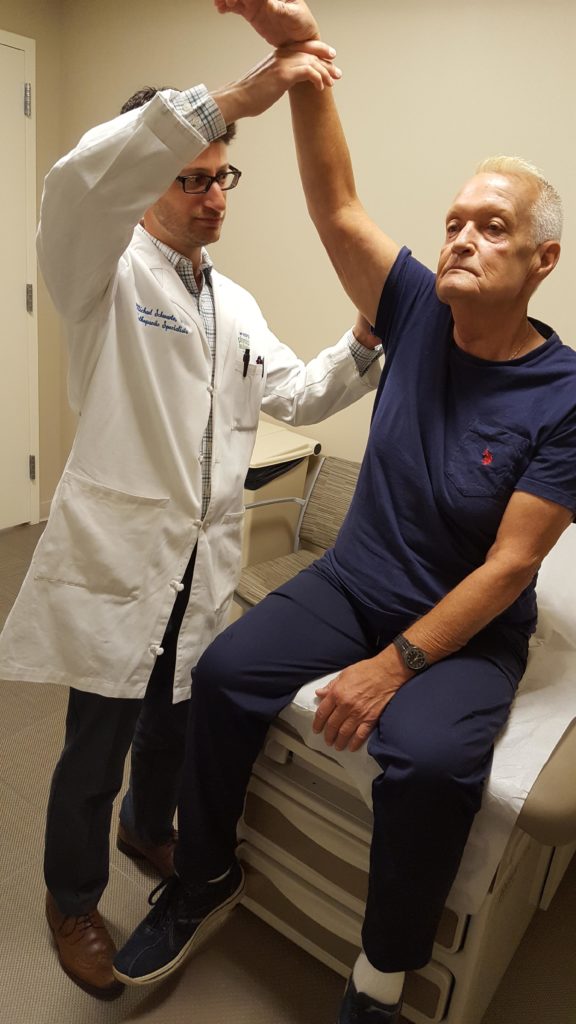 For John Rimmer, a 68-year-old New Rochelle resident who'd already undergone three separate shoulder surgeries, chronic shoulder pain was something he thought he'd just have to live with. That is until he met Michael A. Schwartz, MD, a sports medicine, arthroscopic and reconstructive orthopedic surgeon at White Plains Hospital, who is one of the few surgeons in the metro region who performs an innovative, new procedure for irreparable rotator cuff tendon tears, called Superior Capsular Reconstruction.
"Rotator cuff tears are very common. However, there is a subset of patients in whom the rotator cuff tendon is irreparable or of very poor quality, and therefore, unlikely to heal. Usually their options are limited, and offer lower success rates," says Dr. Schwartz. "When the rotator cuff tendon tears, the superior capsule of the shoulder can also tear. While the rotator cuff tendon cannot, and should not, be repaired in many of these cases, this new procedure focuses on reconstructing the capsule, which can give patients much improved function."
Prior to the availability of this procedure, patients would be told they just had to live with the condition or undergo an invasive procedure that replaces the entire joint.
For Mr. Rimmer, this condition meant that performing simple tasks, like gardening or walking his dog, would be difficult and painful.
"Patients with this particular condition usually have chronic shoulder pain, which often does not respond to standard non-operative options. Or they've already undergone a surgery attempting to repair the torn rotator cuff tendon without success. So if I determine that they are a good candidate, this minimally invasive procedure can enhance quality of life and minimize pain. Since it's all done arthroscopically, using small incisions, the recovery is not as difficult for patients compared to the open and invasive surgical options," notes Dr. Schwartz.
After the procedure, patients follow up with their orthopedic surgeon for a period of 4-6 months. They'll begin physical therapy 1-2 weeks after their procedure, and continue with physical therapy for 3-5 months, followed by a home exercise maintenance program.
For patients like John Rimmer, the procedure was life changing. "Now I can do the things I used to do without pain. It's been a complete success and, as time goes on, I continue to gain even more movement," he says.
Dr. Schwartz, a physician at White Plains Hospital Physicians Associates-Orthopedic Specialists with offices in West Harrison and New Rochelle, is one of the few area specialists who has performed Superior Capsular Reconstruction on several patients, and has more patients already requesting to have the surgery. "Results for any orthopedic procedure can vary, but so far, patients have been quite happy with the results," says Dr. Schwartz. "Although this procedure is relatively new here in the United States, if we look at all of the Superior Capsular Reconstructions that have been performed around the world, especially in Japan, where the procedure originated, the results have been very promising."
About White Plains Hospital
White Plains Hospital (WPH) is a proud member of the Montefiore Health System, serving as its tertiary hub of advanced care in the Hudson Valley.WPH is a 292-bed not-for-profit health care organization with the primary mission of providing exceptional acute and preventive medical care to all people who live in, work in or visit Westchester County and its surrounding areas. Centers of Excellence include the Center for Cancer Care, The William & Sylvia Silberstein Neonatal & Maternity Center and The Ruth and Jerome A. Siegel Stroke Center. The Hospital's Flanzer Emergency Department is the busiest in Westchester County, seeing nearly 57,000 visits a year. White Plains Hospital performs lifesaving emergency and elective angioplasty in its Joan and Alan Herfort, M.D. Cardiac Catheterization Laboratory and Marie Promuto Cardiac Catheterization Laboratory.  White Plains Hospital also has outpatient medical facilities in Armonk and New Rochelle.  The Hospital is fully accredited by the Joint Commission and earned its recognition as a Top Performer for Key Quality Measures® in 2015 and 2013. The Hospital is also an eleven-time winner of the Consumer Choice Award, an honor given to the nation's top hospitals by the National Research Corporation, and received Magnet® designation in 2012 from the American Nurses Credentialing Center (ANCC).  In 2014 and 2016, White Plains Hospital received the Outstanding Patient Experience Award from Healthgrades®, given to only 10% of hospitals nationwide. For additional information, visit http://www.wphospital.org.