Turn Back Cupid's Clock With These Retro Ideas
Valentine's Day can get complicated. Hard-to get dinner reservations, expensive-yet-mediocre meals and grand expectations can turn the sweet holiday into a sticky mess.
Perhaps that's why evoking a simpler time is in vogue.
Retro-themed Valentine's gifts are making a comeback, like these old-fashioned grooming products for bearded gents. There are plenty of other ways to create a retro-themed day that's high on the romance, but easy on the wallet.
Take 1958 as your inspiration — or even as your Spotify soundtrack. The top 10 songs that year were heavy on romantic crooners. It was an innocent time of sweethearts and drive-in movies. And high school dances, as one Coca-Cola TV ad from the era highlights, were squeaky clean.
"There always seems to be something wonderful about a high-school dance," says the narrator, as fresh-faced teens pause for a Coca-Cola break.
"And the thrill of this magical evening sparkles in everyone's eyes," he continues. "But when ice-cold Coca-Cola's on hand, as any young high-school couple will tell you, some of the happiest moments are even happier still."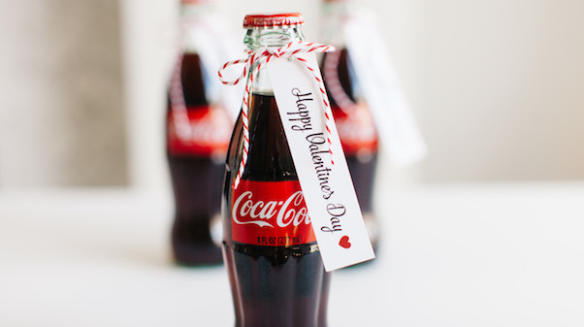 @tomkat studio/@rennaihoefer
In the '50s, high school dances were enough to provide thrilling, happy moments. And dancing to songs of the era can bring those feelings rushing back, even if you weren't even alive at the time.
Valentine's Day in the '50s also meant holding hands and slipping away to the drive-in movie theater. It still can, if you're lucky to have one within driving distance of your home. Even better if you can bring your own snacks.
"You could pack your chocolate-covered strawberries, your Coke bottle with the striped straws, and have it in your classic little picnic basket," says event planner Charity Honeycutt. "And hopefully your drive-in theater will be playing romantic comedies for the holiday."
Honeycutt specializes in the moments well after Cupid's arrow has struck. Her Knoxville, Tenn.-based company, Honeybee Events, specializes in destination weddings, vintage rentals and romantic design. But Honeycutt still finds time to pass out Valentine's Day cards to her team.
Remember the days when nothing was more exciting than getting piles of flimsy paper Valentine's Day cards and fistfuls of conversation hearts? You can drum up the very same innocent excitement, even at the office, Honeycutt insists.
"You can give the kids' Valentines Day cards to each other… the ones with the lollipops on them," she says.
Red Hot candies and conversation hearts are a perfect throwback touch, too. Just remember to keep the Valentines you pass out in a professional environment on the tamer side than what you give your special someone.
Honeycutt definitely saves the major overtures for her fiancée. "I Valentine-d out his whole apartment last year," she says.
That means going full-tilt with romance, letting loose 100 pink balloons, spelling out "I love you" in candy on the bed and festooning the ceiling fans with pink streamers. "It was super corny, but that's just our personalities," she says.
After decking the halls with Valentine's decorations, you could even share an ice cream float. There's just something so retro about wearing your heart on your sleeve.