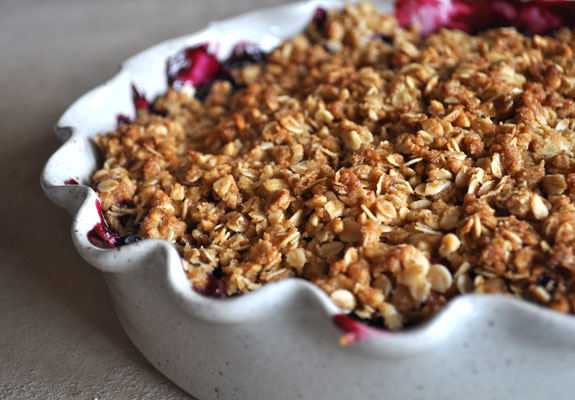 Everyone loves a fruit crisp! Each season brings a delicious selection of fruits to choose from.  Don't be afraid to mix 'em up.  Apple and blueberry, pear and fig, you can even use frozen berries in the dead of winter to remind you of sunnier days.   They make a gorgeous gift and are even delicious for breakfast!
This is a basic fruit crisp recipe, you can add a little more or less of everything, and the recipe will still be fantastic!
For the filling:
6 C. diced fruit
1/2 – 1 C. brown sugar
2-3 Tbs. cornstarch, depending on juiciness of fruit
1 tsp. each cinnamon, ginger & nutmeg
For the crisp topping:
1 C. all-purpose flour (almond flour is also good)
1/2 C. brown sugar
1 tsp. baking powder
1 tsp. cinnamon
½ C. rolled oats
¼ tsp. salt
8 Tbs. unsalted butter, softened
8″x8″ baking dish or 9″ pie dish
Heat oven to 375°F.
Dice the fruit into bite-sized pieces. Toss it with sugar, cornstarch, and spices.  Pour the fruit filling into a baking dish.
Thoroughly mix the flour, sugar, cinnamon, oats, baking powder, and salt for the crumble topping. Break the butter into a few large pieces and toss these in the dry ingredients. Using your fingers, a fork, or a pastry cutter, work the butter into the dry ingredients until large heavy crumbs are formed.  Spread the crumble topping evenly over the fruit.
Bake the crisp for 30-35 minutes until the fruit juices are bubbling around the edges of the pan and the topping is golden brown and firm to the touch.
Serve with your favorite ice cream or softly whipped cream.
It doesn't get better!
Another killer recipe from Marcia Selden Catering and Event Planning  as seen in I Love Fairfield County.