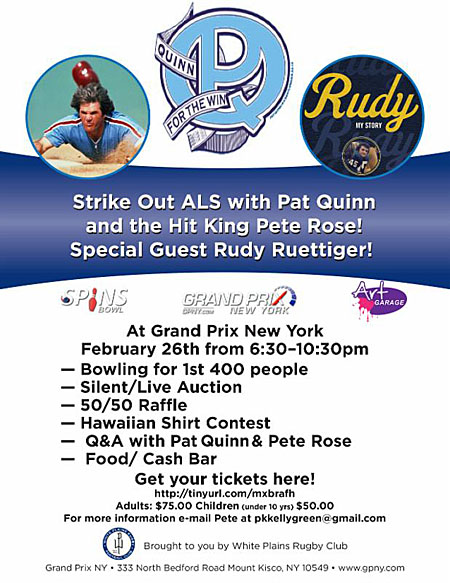 Grand Prix New York (GPNY) will be hosting an event to help raise funds for research to strike out Amyotrophic Lateral Sclerosis (ALS). The fundraiser will benefit Pat Quinn "Quinn For The Win," co-founder of the much heralded Ice Bucket Challenge that took social media by storm and raised millions of dollars and awareness for ALS research this past summer. Quinn, who is from Yonkers, was diagnosed with ALS two years ago.
The event will include a night of food, drinks, bowling, silent and live auctions, a raffle, Hawaiian shirt contest and autographs/photos with baseball legend Pete Rose.
On hand for public/paid autographs will be former Major League baseball player, manager and all-time hit leader Pete Rose. All proceeds from Rose's onsite autographs will be donated to Quinn For The Win. Motivational speaker and former college athlete Rudy Ruettiger will also be in attendance. The 1993 film "Rudy" was based on Ruettiger's college football career at University of Notre Dame.
In addition, two of the most popular radio sports programs in Westchester County, "The Clubhouse and The Scorecard" are combining forces to help bring awareness to "Quinn for the Win" and the fight against ALS. "The Scorecard" show with Chris DeAngelo will be broadcasting live on WFAS AM 1230 from 6 pm to 8 pm with a special addition of The Clubhouse with hosts Brian Crowell and Mark Jeffers.
Amyotrophic lateral sclerosis (ALS), often referred to as "Lou Gehrig's Disease," is a progressive neurodegenerative disease that affects nerve cells in the brain and the spinal cord.
The event, organized by Quinn's rugby team White Plains Rugby Club, will be held February 26 from 6:30 pm to 10:30 pm at Grand Prix New York on 333 North Bedford Road in Mount Kisco, NY.
Entry fee includes admission, food, bowling and beer/wine/soda (spirits additional). Tickets are $75 if you pre-register or $100 at the door. Tickets for children under ten are $50. There will be an additional cost for Pete Rose autographs. Please email Pete Kelly at pkkellygreen@gmail.com for additional information about meeting Pete Rose.
For more information on the White Plains Rugby Club, visit http://www.wprfc.org.
For more information on Quinn for the Win, visit http://room3606.com/q4tw/