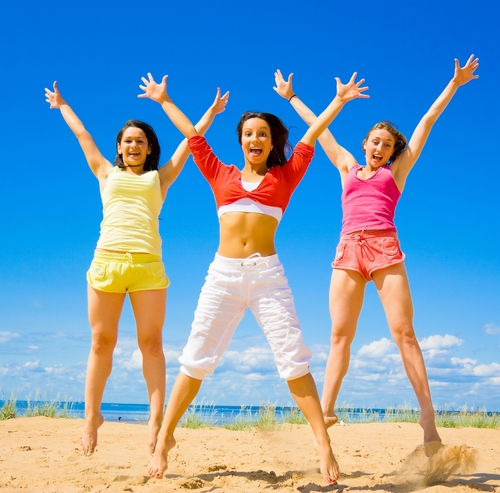 With summer on the horizon, it's only natural to daydream of sun-filled days spent poolside or camped on the beach. While the warm weather is most welcome, are you ready for bikini season? Chances are, you're like the rest of us and spent the majority of the bleak winter months over-indulging. No problem. Tone up and get ready for your big bikini debut with the hottest 2014 summer workout trends that are sure to whip your body into sassy shape.
Crossfit
Crossfit is one of 2014's most popular workout regimes, combining weightlifting, gymnastics and aerobics in a series of high intensity reps. Those who participate can expect a program that builds strength and conditioning through varied and challenging workouts. Each day, Crossfit goers will be challenged with a new, unique workout not just focusing on one specific part of the body, but rather increasing functional strength overall. Crossfit gyms –or as Crossfit junkies refer to them, "boxes"– have popped up all over the country, making it easy and accessible for all. If you enjoy working out with a group and you're not afraid to try new things, Crossfit is your fitness soulmate.
Cardio Barre
Feeling nostalgic for those blissful days as a young ballerina? Cardio Barrecombines the lightness of foot and the elegance of ballet, with the high intensity of a cardio class. Yet it's designed for people who have never touched a barre before. Set to club-style music, Cardio Barre classes utilize a ballet barre to increase static and dynamic movements, leaving you with longer, leaner muscles. Cardio Barre is perfect for those looking to trim the tummy, tone the upper arms and lift the bottom half. Get the backside you've always dreamed of, ideal for that itsy bitsy bikini that will show off your results.
TRX
Looking for a workout class that trims and tones without the use of heavy weights or dumbbells? TRX is calling your name. Using the suspension of two straps (strapped safely and securely to a reinforced bar running through the ceiling) TRX leverages your own body weight to increase muscle density, flexibility and overall body strength. Plus, it provides a great workout for both fitness enthusiasts and workout newbies alike.
Zumba
If you're a dance enthusiast, it's time you join the "fitness party." Zumba is a fast-paced, hybrid dance class that incorporates dance inspired moves and popular international music. Best for those looking to make minimal muscle improvements, Zumba does provide an exhilarating full-body workout.
Yoga
A tried and true workout, yoga remains one of the most practiced forms of strength training and self-meditation. Through a series of poses and stretches, yoga helps you to condition your core and improve flexibility in a calm, soothing environment. Yoga is ideal for those with stressful jobs or who don't manage stress well. When practiced regularly, yoga can not only decrease tension and stress, but also encourage healthy sleep patterns. Ready to take it to the next level? Check out hot yoga to really feel the burn.