My gal pal Jill Brooke loves flowers so much she has created the most beautiful places to visit on the internet, Be sure to checkout Flower Power Daily for a dose of floral beauty every day,
The New York Botanical Garden opens Saturday, February 15, 2020 – Sunday, April 19, 2020
At NYBG's Orchid Show, Jeff Leatham's Kaleidoscope Enchants
In rooms with spell-binding arcs of colorful blooms, the New York Botanical Garden unveiled its new orchid exhibit with famed floral designer Jeff Leatham.
Titled "The Orchid Show: Jeff Leatham's Kaleidoscope," the show will be open to the public from February 15th – April 19th.
Leatham's kaleidoscopic adventure has visitors going through different spaces and color palettes to experience the variety of orchids available at what is the world's best laboratory for flora.
"I'm known for my color and my use of Vanda orchids," says the Los-Angeles based Leatham, who considers this installation opportunity one of the "jewels in his crown."
Like a little kid in a sandbox of toys, Leatham was able to play with over 6500 orchid specimens housed and grown at the New York Botanical Garden ranging from teeny weeny orchids that fit into a palm to larger specimens.
"I would say what colors I wanted for particular areas," explains Leatham of the collaboration.
Then the team, led by Marc Hachadourian, orchid specialist and author of "Orchid Modern," would wave his wand and give Leatham options to then use to create his sculptural magic.
And magic it was.
Upon entering the exhibit, visitors will be struck by a dazzling wall of orchids in vibrant purple and hot pink with a 10-foot-tall silver mirrored orchid sculpture that also is a fountain of water pouring into a black pool. Shimmering floating orchids enhance the soothing and stunning effect. It sets the tone that this exhibit will be both dramatic and fun.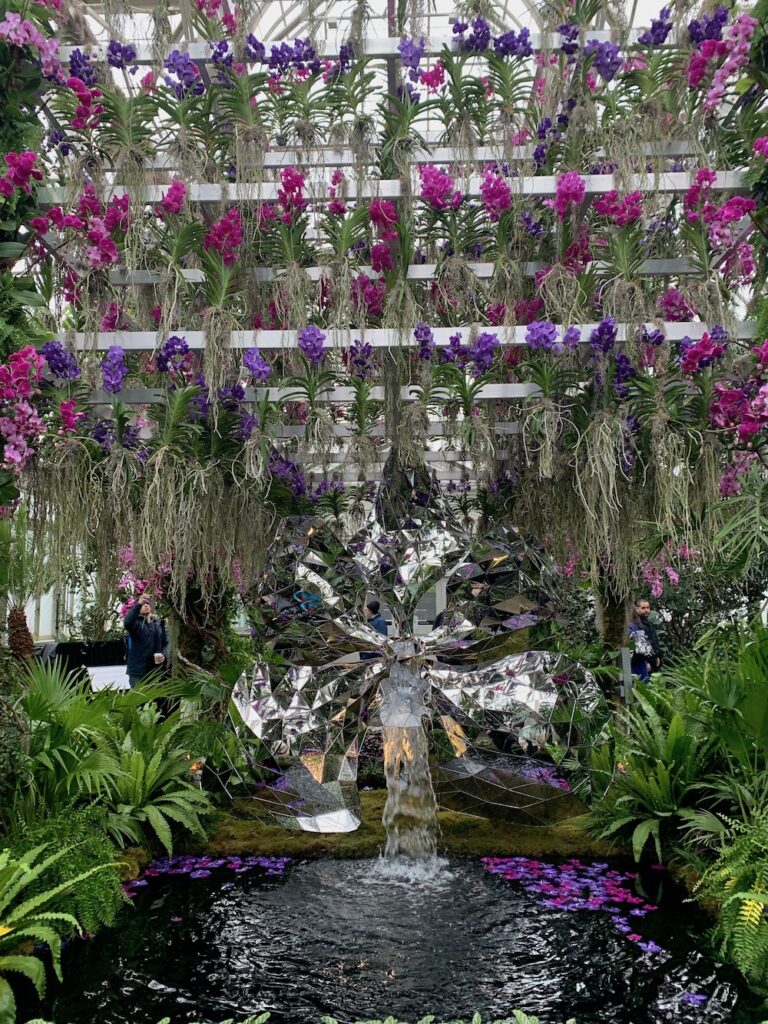 Fans of Leatham, whose clients include Tina Turner, Oprah Winfrey, Cher and even the Dalai Lama, know that purple and pink are often part of his signature creations.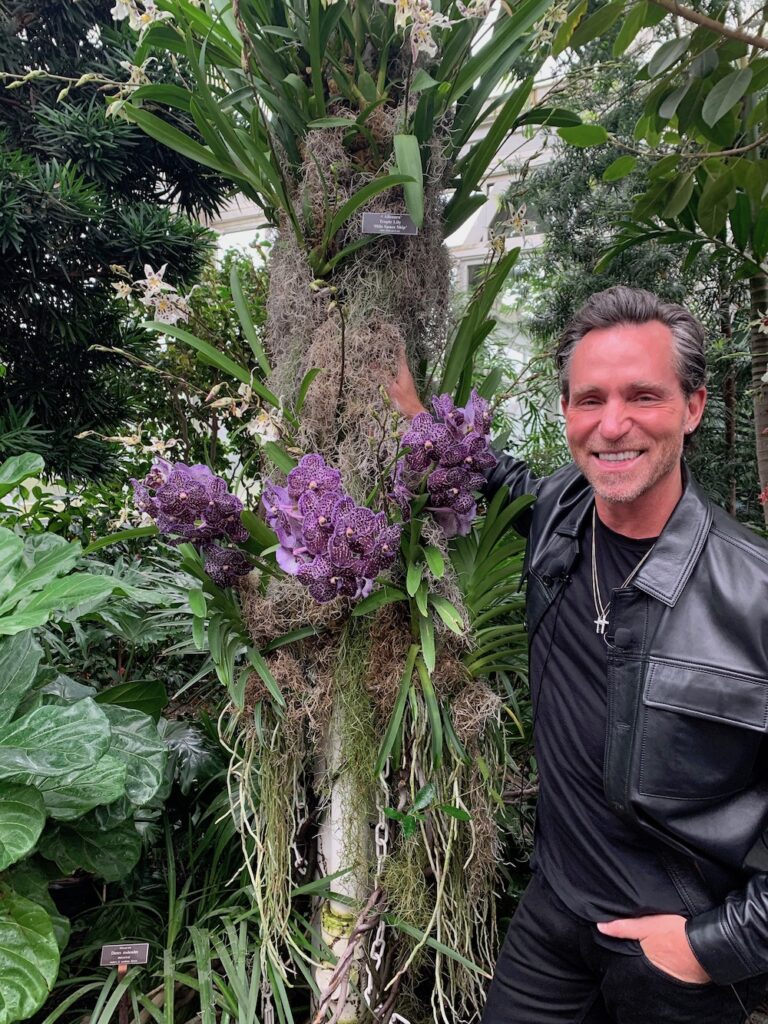 Nearby was a special orchid named after Jeff Leatham that has a brownish-purple base and a splash of white dots.
The journey through this show includes going into the rainforest as well as the desert to deepen people's understanding of how flora adapts to any environment. Like a peacock explodes with fantastic colors and shapes, orchid varieties magically form teaching us how resilience and opportunity occur in unexpected ways. In the desert area were plantings of green and white cymbidiums amid grasses and tall verdant stalks.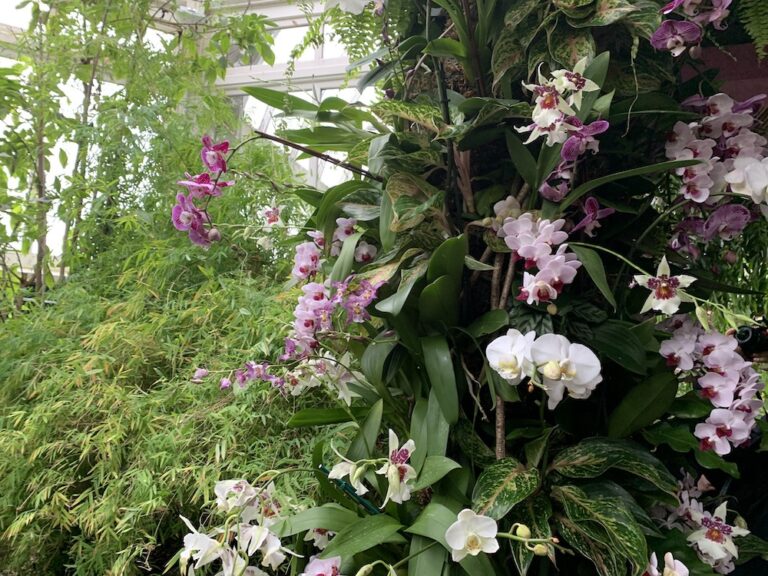 "I wanted each room to be different colors, as though you are going from sunrise to sunset," he says, with a big smile.
Sunrise, sunset may be his theme but instead of being Fiddler on the Roof, Leatham was the Florist on the Roof, overseeing all details. In fact, one of the NYBG team noted his perfectionism wasn't only about the flowers but the lighting too.
Some highlights also include seeing a Bulbophyllum phalaenopsis that has the same smell of a corpse plant – which the New York Botanical Garden was one of the first to not only grow but showcase.
Hachadourian also pointed out some of the endangered orchids that NYBG is cultivating and lovingly preserving.
Because part of the NYBG areas is in construction, Leatham's creativity helped take spaces that were underutilized and transform them into flower installations.
In one example, Leatham helped transform an out of the way section into a gallery. As with all ikebana inspired works, the concept was to reveal life stages through flowers so you see buds, representing birth, flowers in bloom and then sticks representing the end of a cycle before rebloom.
Aside from his work in Los Angeles, Leatham became the award-winning artistic director of the Four Seasons Hotel George V Paris and in 2014, he was knighted with the Ordre des Arts et des Lettres—the highest honor for artists and others who have made a significant cultural contribution.
But this orchid installation is definitely not only the jewel in his crown but literally now a part of him.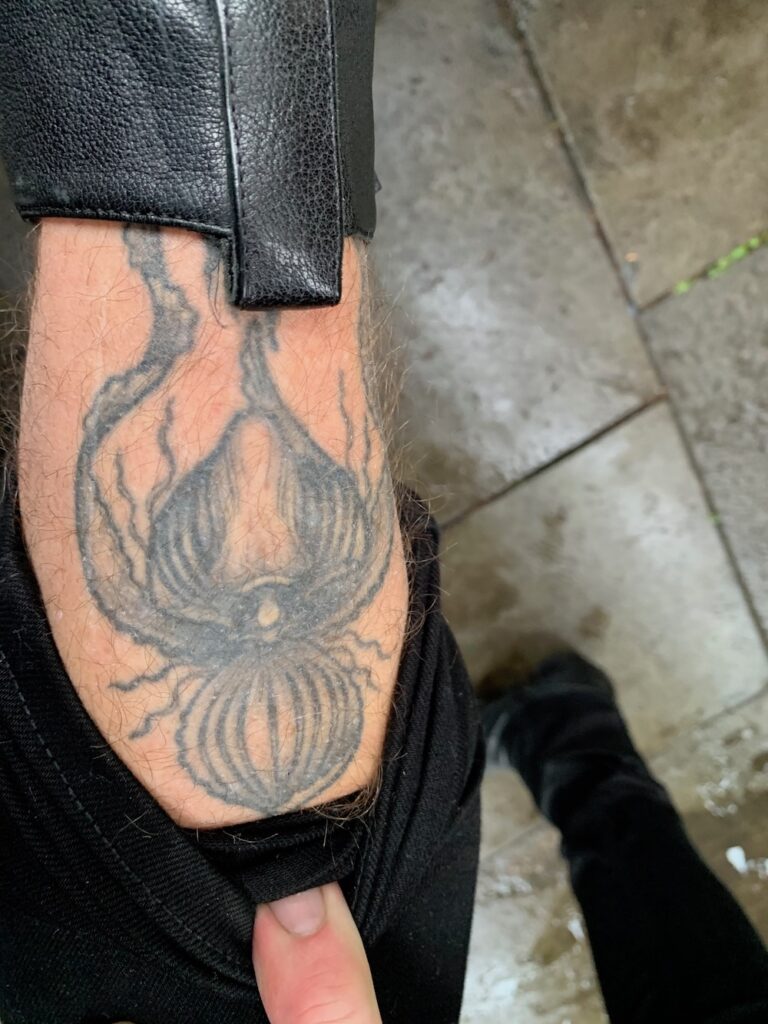 As Leatham showed a select few, he loves these flowers so much that he even has an orchid tattoo on his leg.
Another sentimental token from this exhibit? His beloved mom Janet, who inspired his love of flora, recently passed last August but not before she happily learned her son had been asked to be this year's designer.
That will be one of his fond memories. But Leatham hopes that everyone who visits will "experience something they never had seen before and take their own memories with them."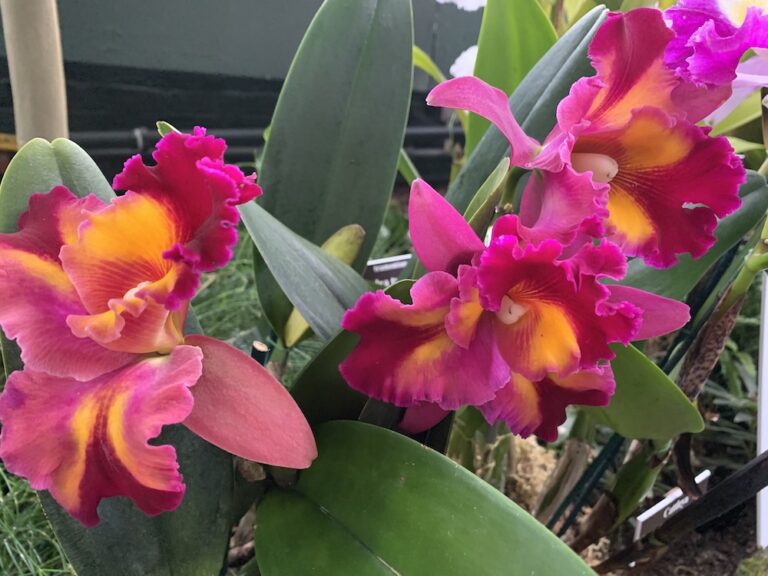 Jill Brooke is a former CNN correspondent, Post columnist and editor-in-chief of Avenue and Travel Savvy magazine. She is an author and the editorial director of FPD.
Photo Credits: FPD