Janis & Carly Spindel
The Leading Mother-Daughter Matchmaking Team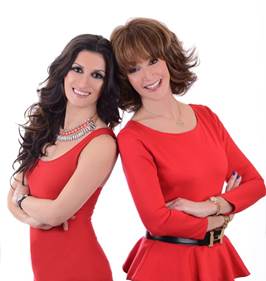 Photo Credit: Katya Productions
Move over 'Bachelor,' 'Bachelorette' and 'Millionaire Matchmaker.' And make room on reality TV for Janis and Carly Spindel, a mother-and-daughter matchmaking team whose unique and magical chemistry already has Hollywood producers proclaiming them the stars of the next hit dating show.
"It's overwhelming," says Janis, the mom of the dynamic duo. "We have been inundated with calls from TV producers who want us to do our own show."
Janis, herself, has been uniting lonely hearts across North America for two decades, with incredible success. Her company, Janis Spindel Serious Matchmaking Inc., has a huge database of highly suitable men and women that number in the tens of thousands and has led to over 1013 marriages, with a clientele boasting A-list celebrities, public figures and CEO's for Fortune 500 companies. In her personal life Janis Spindel has been married for over 32 years and has two daughters.
But it wasn't until her little girl Carly grew up and made it a family business that Janis' matchmaking service began shaping up as a Fortune 500 company in its own right.
"Carly added a whole other dimension to it," says Janis. "Business just went crazy. We suddenly had another whole generation – the millennial generation – we could tap into."
"Mom needed a younger mentality to expand, I think," says Carly. "But she didn't know it until I got involved. She had been doing it for so long, and so very well, I might add, that she didn't know there was an even bigger clientele out there until I turned her onto it. I didn't even know it myself until we joined forces."
Suddenly, Carly's input made Janis' pre-eminent matchmaking services relevant to young professionals in their twenties and thirties.
So much so, that she now heads Carly Spindel Serious Matchmaking Inc. and specializes in matching eligible young men and women at a reasonable expense.
But she couldn't have done it without mom, a former fashion executive and brilliant entrepreneur.
Since her childhood, Carly has listened and absorbed information while her mother gave dating and marriage advice. She continued to shadow Janis, working with her at special events and mock-dates while growing her knowledge and interest of the matchmaking industry.
The desire to provide an option for twenty and thirty-something men and women that are looking to find love has already allowed Carly to credit some 79 marriages to her name. While Janis only takes on men as clients, Carly has begun to take on both male and female clients in an ever-increasing attempt to steer the millennial generation from online dating back to a more personal and ultimately satisfactory experience.
And Carly, in the process, has become a successful entrepreneur in her own right, following right in Mom's footsteps. As the creator and founder of Carly's Dating Chronicles, Carly shares her dating expertise by contributing to websites such JDate and Stylecaster.
Now the matchmaking business has turned out to be a match made in heaven for both of them. When not helping hopeful singles find love, Carly and Janis Spindel love to vacation at their home in Bridgehampton, New York, the Love Villa, and are actively involved in the community.
For more information about Janis and Carly Spindel please visitwww.janisspindelmatchmaker.com.