Cargo Puts the Latest Beauty Obsessions at Rideshare Passengers' Fingertips
Uber passengers can now sample Korean sheet masks by Leaders in their next ride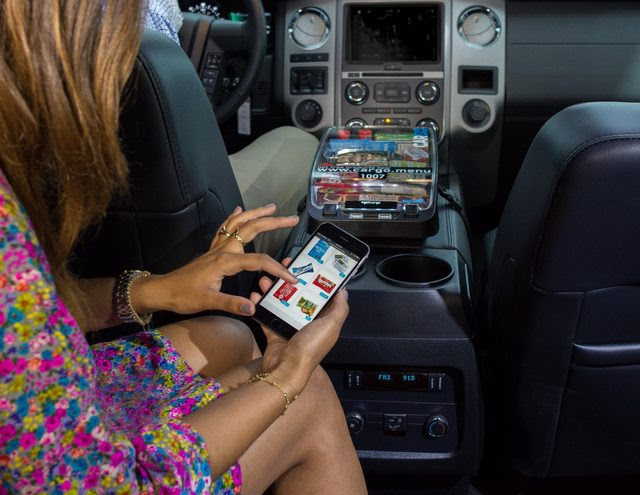 Cargo, the new start-up that puts snacks, electronics, beauty products and more at rideshare passengers' fingertips, today announces the addition of sheet masks from trending Korean beauty brand Leaders Cosmetics USA. Starting today, passengers in Cargo-equipped ridesharing cars will be able to discover their next beauty obsession during their ride, viewing products in Cargo's unique display that sits on top of the car's center console. Riders can sample complimentary full-size Labotica Green Tea Skin Soft Masks with Cargo's easy three-step mobile check out (no app download required!).
Cargo's new partnership with Leaders Cosmetics USA is part of the company's expansion of on-the-go offerings in the beauty category. Cargo is creating a platform for product discovery where passengers find buzzworthy items during what used to be an otherwise idle ride.
"Cargo turns an ordinary ride into a fun experience. You can discover cool new products from some of your favorite brands and new trends from emerging brands, and try them for free," said Sabina Rahaman, Cargo's Director of Brand Partnerships and Merchandising. "Our mission is to create a premium ride experience for everyone. It's the ultimate convenience to have everything from phone chargers and gum to beauty products at your fingertips, on-demand. Discovering your next beauty obsession makes the experience even better!"
Cargo offers a blend of complimentary and premium products intended to create excitement and curiosity for passengers every time they hop into a vehicle. Products like electronics, gum, snacks, energy shots, beauty and personal care items are staples. The latest addition includes:
Labotica Green Tea Skin Soft Mask
The Labotica Green Tea Skin Soft Mask calms breakouts and balances the skin using natural fermented green tea, an antioxidant powerhouse that helps reduce inflammation and soothe irritated skin. This K-Beauty sheet mask is made from eco-friendly Tencel, a transparent adhesive hypoallergenic sheet that is made from the eucalyptus tree using non-toxic and recyclable compounds. A skin care innovator, Leaders Cosmetics USA combines proven natural ingredients and methods from all around the globe with new technologies to deliver the best quality sheet masks on the market.
For riders in Cargo-equipped ridesharing cars, the ordering process to check out this new sheet mask is simple:
Passengers visit www.cargo.menu on their phones and enter the unique code on their driver's Cargo box
Passengers select the Labotica sheet mask from the menu and check out
The driver receives a notification for the order and passes the sheet mask to the passenger once the car is completely stopped
For more information on Cargo, please visit https://getcargo.today/.