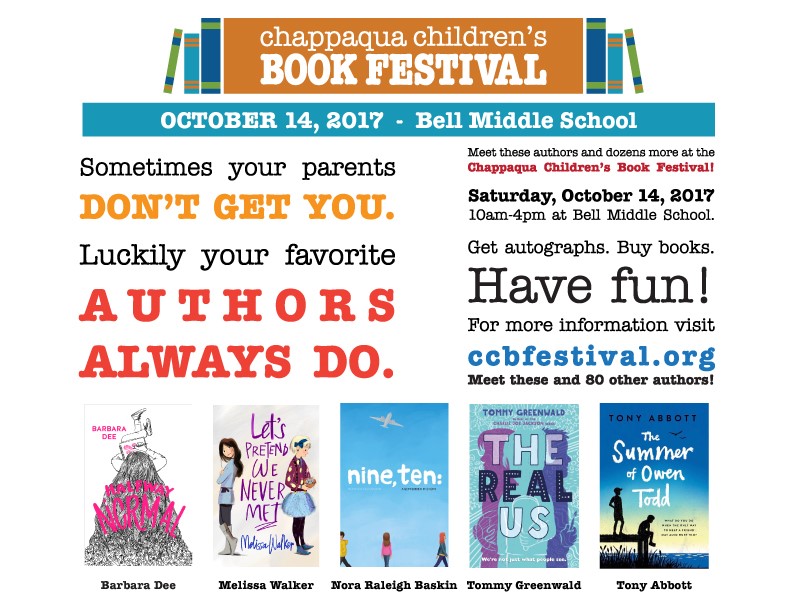 I just wanted to remind that we are just a few short weeks away from one of the best family events of the year in the NY Metro area — The Chappaqua Children's Book Festival, to be held October 14th in Chappaqua, NY, from10am to 4pm. Free admission, rain or shine. There's also music and games for the family!
Have the chance to meet more than 80 popular authors, who bring your favorite characters to life–from princesses to pups, to angst-filled teens, and every crazy character in between. The authors will sign their books upon request and some will host special readings scheduled during the day. Bring your whole family for tons of fun, food, kid-friendly activities, and entertainment and, of course, books to buy!
Find them on Facebook and Twitter @2017CCBF. Here's a video montage from last year that you are also free to publish.
This is a nonprofit, self-supporting event. Local sponsors and an army of volunteers have turned this Book Festival into one of the largest on the East Coast in less than five years. It's a wonderful event but also a story of true grit. How a group of parents, local writers and friends were disappointed that a book festival was leaving the area–and like an old movie script, they said "we can do this!" And they did!
For those of you in the city, it's a lovely day trip–tons of parking and a short walk from the Chappaqua MetroNorth Station (A selected MetroNorth Weekend Getaway!). You will pass through a famers' market in the morning and have access to a food-truck food court all day long. Let your children dream and meet the folks who have illustrated those dreams or spun the tales we have been enjoying for more than a generation. Do your holiday shopping in October. Or just experience the joy of the day!
Come meet authors and illustrators of every genre—preschool pictures books, early chapter books, nonfiction, middle grade fiction, graphic novels, and YA fiction. Here are just a few names you may recognize from your own bookshelves.
Nick Bruel author and illustrator of the NY Times bestselling series about Bad Kitty
Alyssa Capucilli, the author of Biscuit, and many books for young readers
"Barbara Dee, middle grade author with two new releases– Star-Crossed and Halfway Normal."
Gail Carson Levine, who gave us the classic "Ella Enchanted" and more books for delighted readers.
Bruce Degen, author and illustrator, co-creator of The Magic School Bus Series with Joanna Cole, and others
Victoria Kann, the bestselling co-author/illustrator of the "Pinkalicious" series
David Lubar has written 35 books for teens and young readers. He's written Hidden Talents and the Weenies series.
Gloria Jean Pinkney is the author of several storybooks set in familiar places. She collaborates with her husband, illustrator Jerry Pinkney.
Jerry Pinkney has illustrated more than 100 books & this year received to lifetime achievement awards: the Coretta Scott King-Virginia Hamilton Award and the Laura Ingalls Wilder Award.
SuJean Rim, author/illustrator of the "Birdie" series.
Rosemary Wells, author and illustrator, has given readers such unforgettable characters as Max and Ruby, Noisy Nora, and Yoko. She has created 120 books
Jane Yolen, a consummate storyteller, has written 350 books including Owl Moon, The Devil's Arithmetic, and How Do Dinosaurs Say Goodnight.
Doreen Cronin and Betsy Lewes, author and illustrator of the Click, Clack, Moo series.
And many, many more!
For a full list of authors please visit the festival web sitehttp://www.ccbfestival.org/