This Rustic Pavilion Adds Another Social Venue to the Site's 60-Acre Orchard, Cider House, Treehouse House and More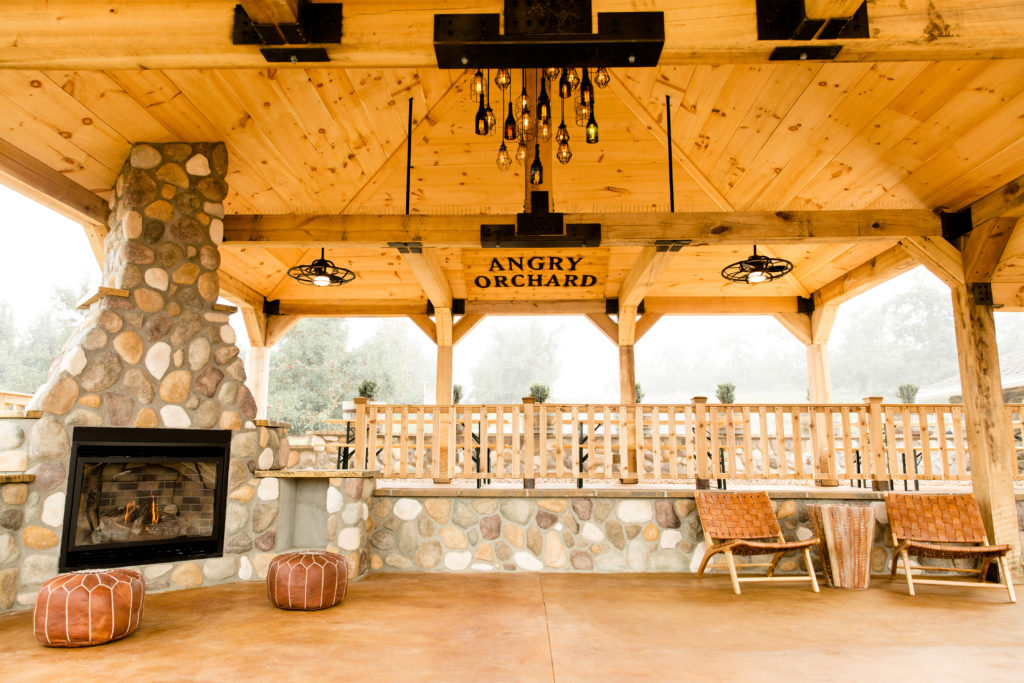 Angry Orchard opened its newly constructed cider garden on Friday, September 15. The cider garden is a 40-foot-by-40-foot indoor-outdoor structure where patrons can enjoy specialty ciders and landscape views. Located on the Angry Orchard property at 2241 Albany Post Road in Walden, NY, the pavilion features wood accents and trim, stonework, suspended lighting fixtures, woven chairs and a stone fireplace, all in keeping with the design of the site's 100-year-old barn, which was transformed into Angry Orchard's barrel cellar earlier this year.
Up to 65 visitors at a time can take advantage of the cider garden's hospitality, including its specially curated ciders in bottles and draft, while enjoying sweeping views of Hudson Valley amid the orchard's impressive beauty.
"At our cidery, we're focused on developing new and interesting ciders, and we love sharing them with guests who visit the orchard," said Ryan Burk, Angry Orchard cider maker. "The opening of the cider garden gives our guests the opportunity to enjoy a cider in a new space right among the trees of our orchard, and right next to the barrel room where many of our ciders are aged. It's a truly unique and beautiful space and we're looking forward to having folks join us here."
The cider garden is open to visitors 21 and older on Saturdays and Sundays.
Angry Orchard Cider Company
Angry Orchard cider makers have been crafting cider for more than twenty years, and in fall 2015, established the Angry Orchard, the company's home in Walden, Orange County, New York, to expand its experimentation and become part of the thriving food, farming and drinks community of the Hudson Valley. Since planting its roots, Angry Orchard has kept busy at the cider house – welcoming visitors to learn about cider and its history in America and crafting new cider recipes using the best cider apples from New York State and beyond. At the same time, Angry Orchard has been looking for ways to couple its experience and resources to continue work toward a mission that is near and dear to many organizations in the Hudson Valley: to establish a robust cider culture in New York and throughout the United States. Angry Orchard has a number of initiatives in the works in New York to support this mission, including planting traditional cider-making fruit on its orchards, and forming partnerships with Glynwood and Cornell University. For more information, visit http://www.angryorchard.com/.