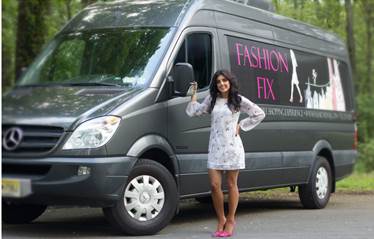 Looking to start your own business but don't know where to begin?Christie Maruka, Founder of Fashion Fix (www.fashionfixnj.com), a mobile styling service that travels along the East Coast keeping the masses well-dressed has done it all from infinite hours in retail to opening her own boutiques to finally embracing her passion for styling and taking it on the road. Below Maruka who has been featured on ABC and FOX-TV and in publications including WWD andLucky Magazine shares her strategies for successfully starting your own venture.
According to Christie Maruka, two important characteristics that all successful entrepreneurs possess is they are always well- prepared and they are avid risk takers.
What does this entail? Before starting a new venture, research all existing avenues.  Maruka recalls opening her first clothing store in 1998 and how she felt just after signing the lease for three years.  She was nervous and anxious and prayed constantly that she would make it, but she never allowed herself to even think of failing…she was prepared to take the gamble and sole responsibility for all the triumphs and tribulations associated with starting a new venture. She was goal oriented in her approach and very persistent to succeed.
Maruka did her research, developed a business plan, and put everything into play and along the way, she admittedly made a few mistakes but learned quickly from them and discovered her own structured, logical way of doing business and worked very hard. She was determined to be successful despite not having a business degree or college education.
Maruka's store was open six days a week. She worked every day for five years straight without hiring anyone or taking a vacation. It was important to first create a strong foundation, a following and develop a store that was different from her competition.  When she finally employed someone she made sure it was the right person to handle her business in the same manner and level of customer service that her clients had grown accustomed to.
Success doesn't come easy; its hard work, and it's essential to find a balance between family and work life. Unconditional support from family and friends is important and helps motivate the entrepreneurial spirit; encouraging them to set new goals and remain disciplined.  Maruka remarks that she was fortunate to always have this kind of help and support.
Many people get discouraged about starting a new venture because of limited funds or lack of capital. Maruka says that should not be a deterrent. Instead, accept that you will have to work ridiculously long days with little to no sleep and you will get stressed at times but, if you want it that bad, then you will make it through. Make certain you are building a business around your skills and knowledge and not venturing in uncharted territory.  This will eliminate costly fees from consultants and outside assistance. Also, having this knowledge and previous work experience is sometimes all that is needed to successfully take the plunge into entrepreneurship.
One of the most common questions Maruka gets from burgeoning entrepreneurs is "Can I be successful even though I don't have a college degree?" Maruka can attest firsthand that the answer is Yes! College is a wise choice for many and often times leads to a higher paying job in the future however many of the most successful and richest people in the country and even the world have made their success without graduating college including Mary Kay Ash (Mary Kay Cosmetics) Michael Dell (Dell Computers), Henry Ford (Ford Motors) Bill Gates (Microsoft) Rachael Ray and Mark Zuckerberg(Facebook).
 Maruka's top tips about building your own business:
Entrepreneurship is like a marathon not a sprint; you have to build your stamina.
Help others. Business Karma does exist. Play by the rules of what comes around goes around.
Be grateful. Thank colleagues and advisors that help and support you along your journey.
Don't be afraid to make mistakes, if you get knocked down get back up.
Take advantage of social media. You can build a huge following without spending a dime on advertising.
Build your business with the right people.  Do your due diligence when you recruit don't just settle.
Get your business and logo name right, make sure it appeals to your target market
Finally Maurka notes that while most people dream of success and go through life waiting for things to happen, true entrepreneurs and winners wake-up and work hard to make it happen.
For more information about Christie Maruka and her company Fashion Fix please visit www.fashionfixnj.com.
Related articles