Valentine's Day is upon us and many singles are thinking, when will I finally find my true love? According to a 2020 Report on International Dating Trends recently released by RapidVisa, an online immigrant visa processing company responsible for processing nearly 14% of all K-1 visas (think 90-Day Fiancé), unconventional methods of finding the love of your life are becoming more prominent. So, maybe It's time to open your mind to the new age of dating, including widening your search to across the world.
One growing method of finding a soulmate includes online video gaming. According to the report, which examined the lifestyle trends of American singles getting engaged to foreign fiancés, "These couples' trend younger, with many more fiancés from Europe or Canada. The UK, a fast-growing K-1 visa population, represents one fifth of fiancés in this space." Gamers are finding love on a variety of games, but the top five where K-1 applicants are meeting include are massive multiplayer games, including World of WarCraft, League of Legends, Game of War, Second Life and Clash of Kings. Western, first-world countries have the highest percentage of fiancés who met through online gaming including Portugal with two-thirds of RapidVisa's sample reporting meeting through online gaming and Canada with over 26 percent.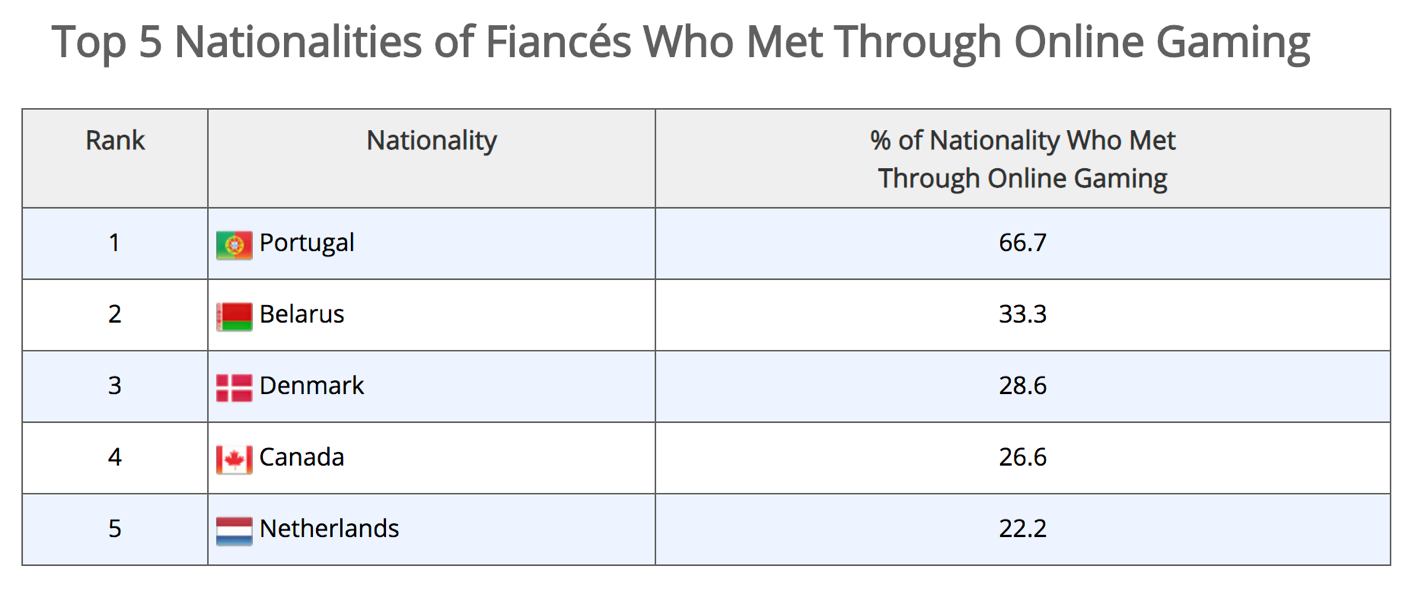 Have you already tried traditional dating sites and had no luck? Maybe it's time to look at international dating sites instead of just domestic ones. More than 60 percent of RapidVisa respondents who said they met online report using a dating site during some point of the courtship. The top five dating sites where K-1 visa applicants are meeting are FilipinoCupid.com, Tinder, AsianDating, OkCupid and CherryBlossoms.com. The top dating sites reflects the broader demographics for international fiancés, where over half of respondents report their sponsored fiancé being from the Asian continent (54.7 percent).
It may be time to pack your bags and plan your next trip, as another popular way to find love in 2020 includes through traveling, whether for business or pleasure. 10.3 percent of respondents included in the report said they met while on vacation. 13% of that group who met on vacation reported that family or friends assisted in them meeting their eventual fiancé. What's better than taking a trip and finding a fiancé all in one?
Other ways singles can meet include everyday scenarios such as shopping at Home Depot, visiting car shows or using subways and public transportation during peak times. An interesting finding of those who meet in person includes the demographic characteristics of both sponsors and international fiancés. Sponsors trend younger, which acts to limit the age gap towards what is seen for the relatively young online gaming couple group, whereas dating sites and social media groups primarily sponsor fiancés from the Asian continent, in-person meetings are far more likely in the Americas.

As the world becomes more interconnected through both traditional and unconventional forms of communication, the dating landscape will continue to change. Shifts are happening to make space for a diversity of relationships across the world, and easier ways to make love flourish across greater distances.
The next time you are on searching online, riding the subway, picking up something from a department store or even taking a business trip overseas, remember to keep an open mind and heart. You never know where you will find your perfect match, or what country they might be from.