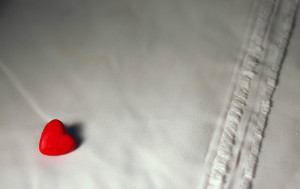 For those of us spending time alone this Valentine's Day it's possible to come over all miserly and sickened by the fluffy, cutesy, icky love fest happening all around us. Your friends with boyfriends disappear off and soon photos start appearing on social media of them all loved up at a cosy restaurant. Fear not! There are some ways to survive and even enjoy Valentine's Day alone and here we have some Do's and Don'ts to help you.
Do
Treat yourself if you're single on Valentine's Day and show yourself some love. Make the most of your time alone to pamper and preen to your hearts content. Get some magazines, bubble bath, a face-mask and some of your favourite tipple. Then feel smug that you're feeling fabulous at home while others might be anxiously trying to make conversation over a "romantic" meal.
Don't
Punish yourself by watching sickening rom-coms like You've Got Mail or The Notebook. They're not even good films to watch when you are sickeningly in love. These films are liable to have you in tears and not tears of joy.
Do
Watch your favourite film or TV programme particularly if it contains your current crush. Ryan Gosling in Gangster Squad perhaps? Or anyone in any of the Avengers films will surely perk up your evening! These films are full of action that you can revel in and escape the reality of being single on Valentine's Day.
Don't
Forget that there are far worse things that being single on Valentine's Day! Would you really want to be celebrating with your ex? Relationships can be hard work and not every couple on Valentine's Day will be having a great time. It doesn't always happen like it does in the movies.
Do
Celebrate Valentine's Day with people you love like family members or single friends. It's not all about romantic love after all. Consider a girly night out or in to celebrate friendship and being single. Think of all the things that make being single great, such as the lack of responsibility! Cook dinner for your family and write them all little notes about why you love them. The love you receive in return will uplift you and leave you feeling wanted.
Don't
Leave your phone on, get drunk and start desperately contacting people you used to go out with or people you have a crush on. You'll wake up in the morning regretting it and desperation has never been know as a great way to win someone's affection!
Do
Fake it at work. If someone asks what you're doing for Valentine's Day just giggle like a maniac. You're not lying, you're just not telling them you're staying in alone and eating a tub of ice cream, but this reaction will make others assume something gossip worthy is happening. They'll be desperate to know and you'll be the centre of attention for the day!
Whatever you do or don't do this Valentine's Day, remember it's just one day and once it's over, normality can resume. Except, you won't be landing with a bump unlike your coupled-up friends. Smirk.
Jess Savage works in a gift shop. Her articles mainly focus on women's lifestyle choices and she enjoys sharing her ideas and stories online.