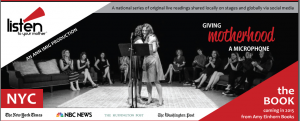 LISTEN TO YOUR MOTHER IS A
NATIONAL SERIES OF
LIVE READINGS BY LOCAL
WRITERS IN CELEBRATION OF
MOTHER'S DAY.  THIS YEAR LTYM
WILL BE PRESENTED IN 32 CITIES NATIONWIDE AND YOU COULD
BE A PART OF IT ALL.
Do you have a humorous, poignant, painful,
joyful or soulful original piece on the
subject of motherhood which takes 3-5
minutes to read aloud? if so, this is an
opportunity for you! Listen to Your Mother
is eager to hear stories from people
of all ages, types, backgrounds and
experience levels.  NO previous stage experience is necessary.
Auditions are being held February 23rd-25th and all details can be found here.
Auditions are being held on the following dates by appointments only:

Sunday, February 23rd: 1-6pm
Monday, February 24th: 9am-1pm
Tuesday, February 25th: 6-9pm

To schedule an audition, email listentoyourmothernyc@gmail.com

with your name and availability during the time slots listed above.