Toronto is one of the most sought after tourist destinations in North America. It has a wide range of attractions that would suit people of all ages and ethnic backgrounds. If you are into sightseeing opportunities, you won't be disappointed. 
Below are some of the best sightseeing activities to look forward to when you visit the city in 2020, giving you more reasons to make it your next travel destination.
Top 6 Sightseeing Activities in Toronto
Are you planning to travel to Toronto in 2019? The following are the best activities and destinations that will showcase the best of what the city can offer.
1. Take a cruise in Toronto.
Why choose Toronto as your next travel destination? 
As the fourth largest city in North America, Toronto is one of the best cosmopolitan destinations to visit in the continent. But while there are a variety of tourist attractions in the city, going on a cruise is one of the true gems out there. 
The city offers an impeccable waterfront that you can use to see the city's beauty from a different perspective. One of the best and most popular cruises from Toronto is with Niagara Falls. You can find a variety of cruise options and all sizes here. 
2. Sightseeing in Niagara Falls.
Speaking of cruises, there is one particular cruise that you simply cannot leave Toronto without trying – Niagara Falls. There are many day trip tours to Niagara Falls from Toronto, which makes it easy to see the spectacular waterfall.
Other than the main attractions in Ontario, you should try the legendary Maid of the Mist boat tours. Thus, you can get as close to Niagara Falls as possible. 
But aside from taking a cruise near the waterfall, there are also plenty of other sight-seeing attractions near this attraction. The Niagara Parks Botanical Gardens & Butterfly Conservatory is one of the crowd favorites, particularly during fall.
 In this 100-acre space, you will get to explore well-maintained gardens and a conservatory that is home to thousands of plant species. Other sightseeing attractions near Niagara Falls include Old Fort Niagara, White Water Walk, and the Inniskillin Winery. 
3. Get up the CN Tower and try EdgeWalk.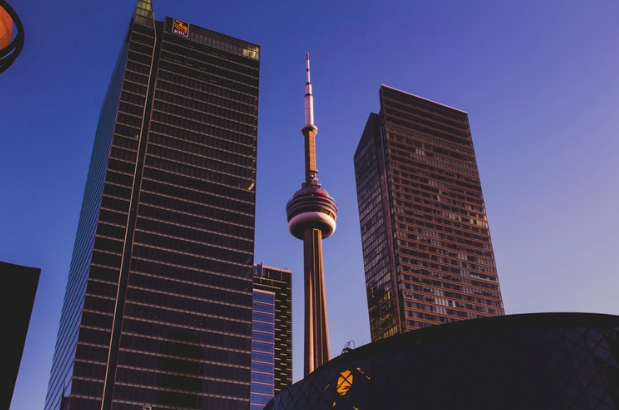 What to see when you visit Toronto. (Image Source: Unsplash)
When you talk about Toronto, there is one tourist attraction that comes to mind – CN Tower. This tower stands at 1,815 feet tall and is known as one of the Seven Wonders of the Modern World. As the tallest free-standing structure in the western hemisphere, the CN Tower towers above the Toronto skyline. 
As such, this is a great spot to go to if you want to enjoy an expansive view of the city skyline. This engineering marvel is visited by tourists who want to experience top-notch dining and entertainment. It has also become somewhat of an iconic symbol of Toronto.
For the best views, climb up to the LookOut Level of CN Tower at 1,136 feet with its floor-to-ceiling window walls and glass floors. If you are not afraid of heights, this is an experience that you cannot afford to miss. 
Another must-try experience for the daring adventurers is the EdgeWalk. This is a hands-free walk that lets you walk the outside ledge of the tower. It is an experience that will undoubtedly get your heart pumping!
4. Explore the Ripley's Aquarium of Canada.
If you are looking for sightseeing activities to enjoy in Toronto, this is one of the must-see destinations. It is home to over 16,000 exotic and interesting inhabitants of Toronto. This interactive and underwater exhibit spans 135,000 square feet in size. 
It is, therefore, the largest indoor aquarium in the world that is home to jellyfish, sharks, stingrays, colorful fish species, and giant lobsters. Located at the base of the CN Tower, you can marvel at these aquatic creatures as you get the opportunity to be close to them. 
This attraction is open daily from 9 AM to 11 PM. This is truly one of the most spectacular sightseeing activities that will convince you to travel to Toronto in the coming year.
5. Indulge at St. Lawrence Market.
Whether you love to discover foodie finds, shop for unique souvenirs and gifts, and explore some art exhibits, St. Lawrence Market is the place to go in Toronto. It has everything you could ever need and want!  Delight your taste buds as you explore the many food stalls, cafes, and restaurants that you can find here. 
You can also get the chance to buy fresh farm produce or partake in one of many tours available to experience the highlight of this local market. There are cooking classes that you can join in or art exhibits to marvel at!
6. Take a tour at Casa Loma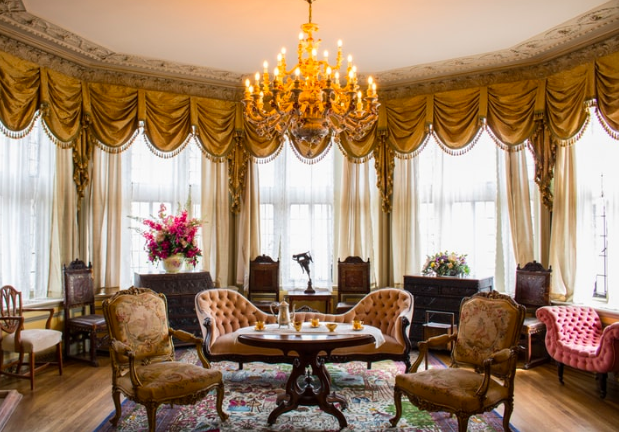 Living the dream in your dream home (Image Source: Unsplash)
When it comes to iconic attractions with spectacular sightseeing opportunities in Toronto, you need to visit Casa Loma. This was once a private home by Sir Henry Pellatt, which is like a real-life fairy tale castle. 
The interior of Casa Loma features majestic staircases, sweeping lush gardens, and lots of secret passageways. The majestic castle is a favorite attraction to visit for tourists who come to Toronto wherein it attracts thousands of tourists per year. 
Take the time to marvel at the Edwardian era décor and the elaborate antiques and interior furnishings of Casa Loma. You can also explore the castle grounds and its vast garden. Many come to Toronto simply for a chance to see this majestic attraction. 
Real Estate Investment in Toronto
There is no place in the world like Toronto. It offers a vast array of opportunities for those looking for entertainment or business opportunities. One of the best ways to experience everything that the city can offer is to invest in real estate, especially in these condos. 
Whether you want to invest in new condos for sale in Toronto or are looking for a place to stay during your visit, a condominium is a good choice. This will assure you that you can stay in a central location so you can have easy access to major tourist attractions. 
Will you be visiting Toronto in 2020? Which of these sightseeing activities do you plan on adding to your itinerary?