As more people are cooking at home, wholesome, delicious ingredients like tahini are becoming increasingly popular pantry staples. The deep, earthy flavor and versatility of this ancient ingredient compliments both savory and sweet dishes and is an excellent replacement for dairy and eggs in countless recipes. So what is tahini and how can you use it to make your meals more satisfying? Consider this your Tahini 101 primer.
Sesame was cultivated in India as far back as 5000 BC. By 2000 BC, the seeds were traded throughout Africa, Asia, and the Middle East, where they were used for rituals and medicinal purposes. They were also eaten as condiments, added to bread and baked goods, and ground into a paste, or butter, called tahini. Today, tahini is still a common ingredient in Middle Eastern and Mediterranean cuisine. It's used in dips, spreads, dressings, in baked goods… virtually anything!
The source and quality of the sesame seeds often dictate the quality of the tahini, as does the roasting process. Soom Foods, one of the leading brands of premium tahini in the US, uses white Humera sesame seeds from the Tigray region in Ethiopia. This region has the perfect soil and weather conditions for producing plump seeds with the perfect oil to meat ratio. The seeds are lightly roasted to enhance the nuttiness and mild bitterness that all good tahini should have. The seeds are then finely ground, resulting in luscious, creamy tahini that is far superior to supermarket brands.
The inspiration for Soom came when three sisters – Amy, Shelby, and Jackie – tasted an incredibly moist and uniquely nutty carrot cake in Israel while visiting family. When they discovered the secret ingredient was tahini, used in place of vegetable oil, a light bulb went off! Why wasn't the high-quality tahini used so commonly in cultures around the globe available in the US? They decided that bringing premium, silky-smooth tahini to the US market would be their goal. And through their efforts to make tahini a more widely-used ingredient in the States, they also realized the power delicious food had to bring people together to share a meal.
Soom CEO, Amy Zitelman, says, "There's no better feeling than serving the ones you love food that tastes amazing and nourishing their bodies." Cooking with tahini definitely fits the bill. And that's all because of the mighty sesame seed. This tiny but mighty seed is considered a superfood by many since it's packed with vitamins, minerals, and healthy fats. The polyunsaturated "good" fats in sesame seeds are the ones we want to include in our diets to promote healthy organ function, especially for our brains. The essential Omega-6 fatty acids also play a critical role in keeping our cells happy and performing optimally.
Since Soom Tahini is simply ground sesame with no added oils or salt, it is also naturally cholesterol-free, nut-free, dairy-free, gluten-free, paleo-friendly, vegan, and keto-friendly. Plus, each serving of Soom Tahini provides you with 6g of plant-based protein. As if that weren't enough, Soom Tahini also contains copper, selenium, phosphorus, antioxidants, B vitamins, zinc, vitamin E, and calcium!
With all of the benefits of tahini, there's no doubt you should be using it in your kitchen. But if you've never used it before, you may be wondering how to get started. Luckily, the internet is overflowing with incredible recipes. Soom's website boasts a library of free recipes curated by chefs, bloggers, and food enthusiasts that should be your first stop. And once you realize tahini is an ingredient you can't live without, consider adding a cookbook to your collection. Soom CEO, Amy Zitelman's new cookbook The Tahini Table is user-friendly and includes gorgeous photographs that will get your mouth watering! Below is one of Zitelman's favorite recipes from the book. We hope you enjoy!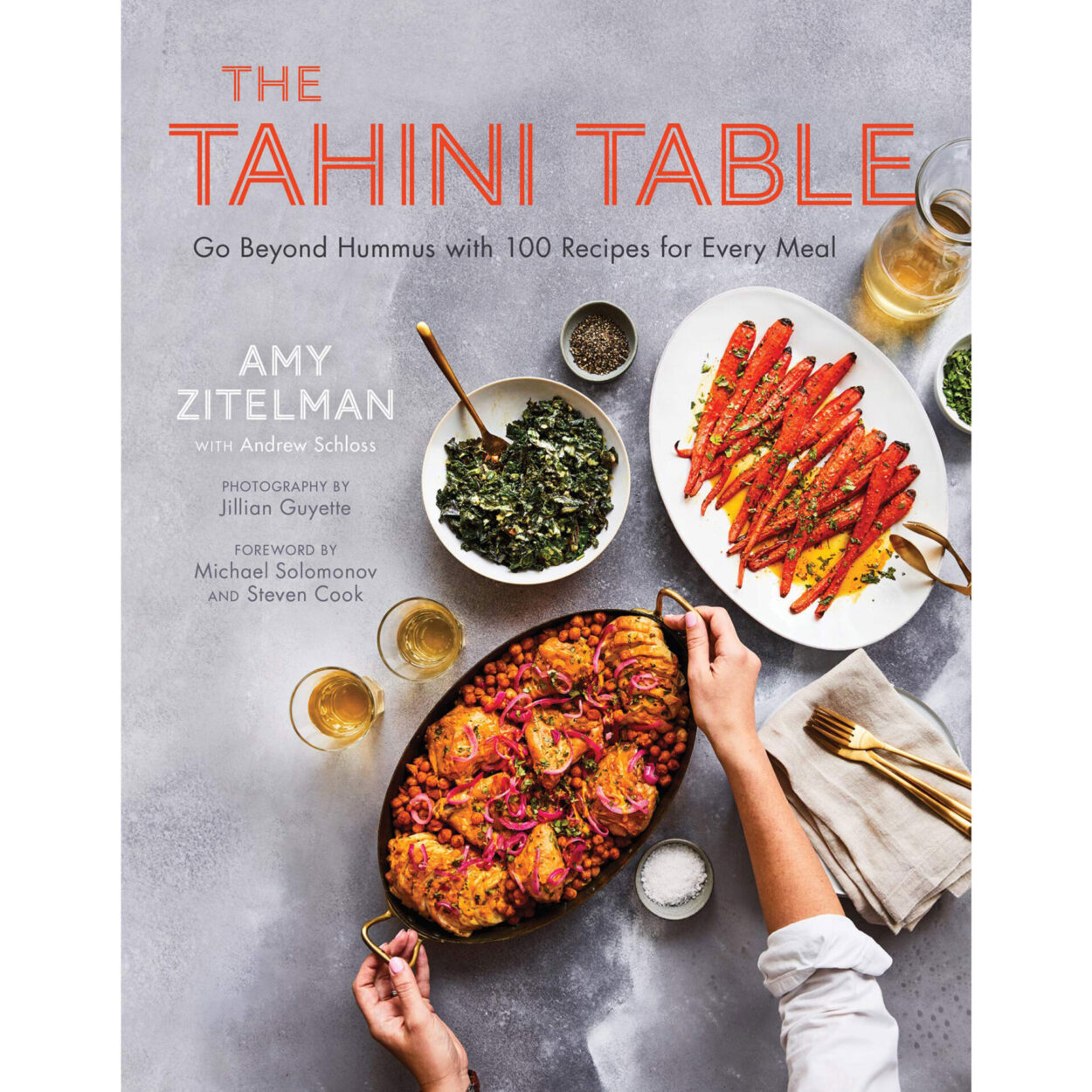 Reprinted with permission from The Tahini Table by Amy Zitelman, Agate Publishing, November 2020.
Photo by Jillian Guyette
Like a classic peanut butter cookie crossed with shortbread, these simple and wonderfully rich Tahini Sugar Cookies biscuits are the perfect accompaniment to a cup of coffee or tea. Whip up a batch for a treat no one will want to put down.
Tahini Sugar Cookie Sandwiches: For a real treat of a variation, sandwich chocolate tahini or ice cream between two of these cookies.
INGREDIENTS
6 tbsp (3/4 stick) unsalted butter, at room temperature

1/2 cup Soom Tahini

1/2 cup granulated sugar

1/2 cup packed light brown sugar

1/4 tsp fine sea salt

1 large egg

1 tsp vanilla extract

1¼ cups all-purpose flour

1/2 tsp baking soda

2 tbsp raw sugar, such as demerara or turbinado, and/or sesame seeds (optional)
INSTRUCTIONS
Set two oven racks near the center of the oven. Turn the oven to 350F. Line two sheet pans with parchment paper or silicone baking mats.

Beat the butter, tahini, granulated sugar, brown sugar, and salt in a large bowl with a wooden spoon until just combined. Mix in the egg and vanilla.

Mix the flour and baking soda in a small bowl, then stir the flour mixture into the batter until it is no longer visible.

Scoop the batter with a 1-tablespoon measure and arrange as mounds on the prepared pans, about 11/2 inches apart. You should be able to fit 10 cookies per sheet. Wet your hands and flatten the mounds so that each is about 3/8 inch thick. Sprinkle the tops with the raw sugar or sesame seeds (if using).

Bake until the bottoms are lightly browned, about 10 minutes, switching the pans between racks halfway through. Cool the cookies on the pans for 5 minutes, then transfer them to wire racks to cool completely. When the pans are at room temperature again, form the remaining batter into cookies and bake in the same way.

Store in a closed container at room temperature for up to 4 days or freeze for up to 1 month.