While Arthur Avenue features some of New York City's best mom-and-pop shops and restaurants throughout the historic neighborhood – many of which are owned by multiple generations of families, below is a list of a few delis that are offering holiday gift baskets available for takeaway, curbside pickup and shipping this holiday season.  
Mike's Deli – Located in the Arthur Avenue Retail Market and known for their homemade sandwiches and mozzarella, Mike's Deli has family ties in the neighborhood dating back to 1922 with Nonno (grandfather) Gennaro who first immigrated from Naples. Mike's Deli's variety of gift baskets and boxes can include sausage, pepperoni, sopressata, provolone, Locatelli Romano, Parmigiano Reggiano, homemade sauce, homemade pasta, crackers, cookies, Panettone, and specialty food items like Italian olives, and Italian green peas. Gift baskets can also be customized. The "Small Pasta Box" starts at $24. Available for takeaway, curbside pickup, and shipping.
Mike's Deli Gift Basket (Photo Credit: Belmont Business Improvement District)
Joe's Italian Deli – For over 40 years, Joe's Italian Deli has been serving some of the neighborhood's finest imported cheese, Italian meats, oils and vinegars, pastas and homemade mozzarella – while treating customers like family. Their gourmet gift baskets can be customized, and all items are authentic imported Italian dry sausage, cheese, chocolates, figs, torrone, olive oil, balsamic vinegar, pesto, pasta and more. A popular choice for the cheese and sausage enthusiast is their "Christmas Carol" basket with Italian dry sausage, dry soppresata, Italian Torrone, and assorted imported Italian cheeses. Gift boxes for delivery start at $150, while in-store gift baskets are available for all budgets. Boxes are available for takeaway, curbside pickup and shipping. Gift cards are also available.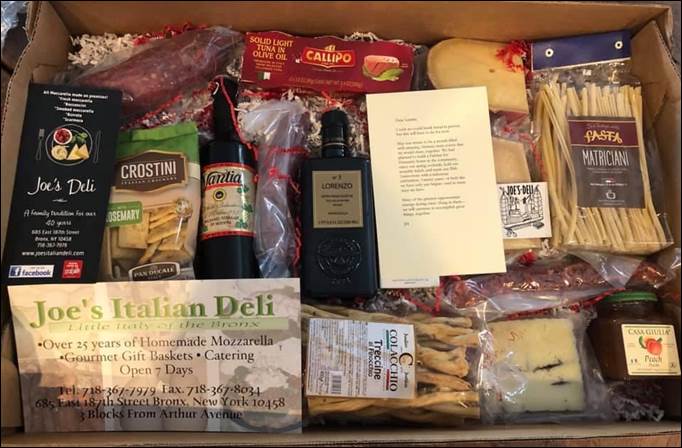 Tino's Delicatessen – Operating for over 50 years on Arthur Avenue, Tino's customized gift basket features authentic Italian favorites including imported Italian pasta, sauce, biscotti, chocolates and other treats. Prices start at $50. For gift baskets for the home, Tino's recommends a basket with a combination of imported Italian meats and cheeses. Available for takeaway, curbside pickup and shipping.
Marie's Fresh Roasted Coffee Beans & Gifts – Owned and operated by the same family for the past 70 years, Marie's offers the freshest roasted Arabica coffee beans that can be shipped anywhere in the U.S. Marie's gift baskets can also be customized and can feature Panettone, Italian Chocolate, dishware, ceramic coffee and espresso cups, coffee makers, and espresso and cappuccino machines. Gift baskets start at $50. Also available for takeaway, curbside pickup and shipping.
Lastly, Little Italy in the Bronx has its own pasta sauce and products, which are distributed nationally and is also available on Amazon.com. A portion of the proceeds of Little Italy Bronx pasta sauces and products go towards the Belmont Business Improvement District to help preserve the neighborhood and traditions for generations to come.