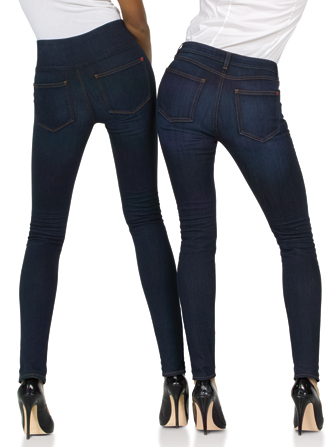 Power Panties devotees get ready for Spanx jeans! The shapewear brand's denim line will make its debut in July. "I see Spanx as a lifestyle brand that is delighting women in making things fit better and feel better on the body and not just through compression," Spanx founder Sara Blakely said. "We're known for making you look thinner and more toned, but it can just be about a better cut and fit."
Launching in July, WWD reports that the denim skinnifiers will come in two styles: the Signature, which features a wide waistband and a side zipper designed for a smooth fit, and the Slim X, which has a stomach control panel and five pockets. The jeans will retail for $148 and come in everything from straight to boot-cut silhouettes.
They're the best (and worst…if we're talking about breathing) things ever to happen to women's fashion. Spanx, in all their glory, have been helping us look fit and fabulous in out clingiest of clothing and now, the company is moving on to denim.
I just wonder if you need to wear Spanx under your Spanx.