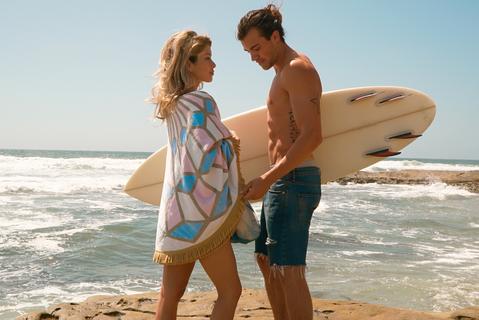 The scent of fall is nearly in the air but if you're like the many of us who are clinging to the long days of sun that summer brings, get up and get out. You don't want autumn to hit while you still have summer bucket list items to cross off your list. Soon enough you'll be scrambling indoors for long football sessions and family game nights. Until then, however, cling away. Need some inspiration? Read on for suggestions on things you must do before it ends.
Go For a Night or Morning Walk/Run
The treadmill will claim you soon enough, so get out for that early morning jog before the temperatures turn. A morning walk or run ensures you get in your exercise, as we've all fallen victim to the last minute happy hour after work. Or take a nice, relaxing walk in the evening before the time change hits. Blast your favorite summer tunes as you enjoy the sights and sounds of nature that have stuck around.
Hit the Water
If you live anywhere near a beach, get thee there. Even if you don't go in the water, simply being ocean or lake adjacent is good for your emotional health. There is just something so tranquil about being by the water, and it's just good for the soul. Whether you get your fitness on in the sand or simply stare at the water in a trance-like fashion, a trip to the beach is always worth your while. Grab a large round towel from Slippa.net and pack a picnic to maximize the experience. Bring some homemade hummus, cheese and crackers, and a bottle of your favorite vino for a day or evening to remember. Some people get to visit the beach year-round but for those of us who know it's only seasonal, the time is now. Go!
Take the Road Less Traveled
Those who live in cold weather states won't be able to travel by car much during the winter months, so it's best to get in those weekend jaunts now. Pack up the car, the kids (if you have them), and the family dog and get to a place that makes you happy. Hopefully that place has the aforementioned beach! From wine tasting and antiquing to glamping and camping, trips before the cold hits are a must. Unless you like to winter camp, now is the time to grab the s'mores makings, your sleeping bags (or cots), and your hiking gear and hit some local sites.
Go See the Boys of Summer
Baseball will be a distant memory soon enough, so grab your family and/or significant other and go catch a game at your local ballpark. Nothing says, "I'm clinging to summer" more than some cheap seats, a large beer, and a hot dog. It's all the more fun if your team is doing well. Follow your team on Facebook to find out when their special nights—like Family Night or College Night—take place.
Hit the Farmer's Market
Some people just think fruits 'n' veggies when they hear the term "farmer's market" but what these people might not realize is that some towns go all out to make these actual events. From pony rides to live music, many farmer's markets go above and beyond food and drinks. Of course, getting local produce that's in season and flowers on the cheap are reason enough to go.
Go to an Outdoor Movie or Concert
These are the quintessential summer activities but plenty of cities offer them late into the season. There is nothing quite like seeing your favorite flicks and bands under the stars. Whether you get a spot in a seat for the sake of claiming your space or you sit on a hillside with a full picnic spread, these activities are a definite pre-autumn must.
Eat and Drink Like It's Still Summer
Put off the five alarm chili and stews for a few months. Instead, get out the barbecue and grill your favorite meats, fruits, and veggies. Serve your food up with some homemade lemonade—spiked or non-alcoholic. Don't forget the corn on the cob, of course.
Fall is approaching but it's not quite here just yet. Enjoy these activities before summer really is over!