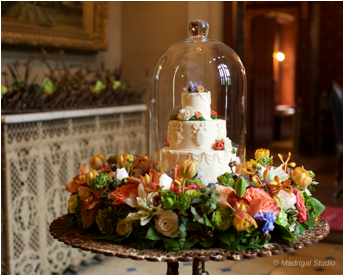 Floral Decorations throughout Mansion Recreate Lyndhurst's Heyday
When Jay Gould and his children owned Lyndhurst, the mansion was constantly bedecked with flowers from the vast Lyndhurst greenhouses. To recreate this, Lyndhurst Mansion will open its 2017 season of tours with an extravagant spring flower show featuring Westchester's finest florists displaying lavish arrangements throughout the rooms of the mansion. Visitors may either take guided tours of the historic home or simply walk through at their leisure to see the various floral displays. This provides future brides, planners and hostesses the opportunity to sample some of the best floral craft available in Westchester County.
The show will run from April 7 to 9, 2017 and opens with a special Preview Party co-sponsored by the Garden Club of Irvington on Friday, April 7 from5:30 to 7:30 pm. At the Preview Party, the public will have the opportunity to meet the floral designers and discuss their signature style while touring the mansion. The show continues on Saturday and Sunday from 10 am to 4 pm.
"The flower show is not only a wonderful opportunity to see the best local florists in one place, it also gives visitors a chance to see Lyndhurst bedecked with flowers as it was in its heyday. Because the mansion had many gardens and a splendid greenhouse, the original tenants always had stunning flower arrangements in every room," said Howard Zar, Lyndhurst's Executive Director.
The Spring Blossoms Flower Show is the perfect opportunity for brides and event planners to see upscale area florists including Ned Kelly & Company of Piermont, Gerald E. Palumbo and Miko Akasaka of Seasons of Irvington & New York City, Sue Bicksler-Taub of Holbrook Cottage of Briarcliff Manor, among others. Lou Zapata of the Garden Club of Irvington will create a special display of flowering orchids. Tickets for the Saturday and Sundayshows are $18.00 per person and the suggested donation for the Preview Party is $25. Tickets are available online at www.lyndhurst.org.
About Lyndhurst. Originally built in 1838, Lyndhurst is considered by many to be the most important American home of the 19th century. Designed by A.J. Davis, the Frank Lloyd Wright of the 19th century in Gothic Revival style, Lyndhurst was one of the first homes to be built in the Hudson Valley as a romantic retreat. Lyndhurst is situated on 67 magnificently landscaped acres on the widest part of the lower Hudson River. Lyndhurst is where the Hudson Valley begins.
Go to www.lyndhurst.org for more information.