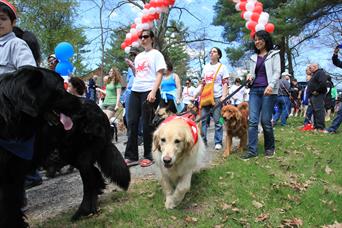 Join us for this fun-filled family event on Saturday, May 6th from 10 a.m. to 2 p.m. at FDR State Park in Yorktown Heights for the best dog event of the year! Take part and help raise funds for the dogs and cats at the SPCA! Sign-up now to be a walker and you can choose to create an online fundraising page to gather pledges in support of your walk. It's not mandatory to pre-register in order to attend or collect pledges, but it's greatly appreciated.


One you've registered, log in here to access your fundraising page.

Walk the scenic 2.5 mile path with your canine buddy, then go shopping in our vendor village while enjoying food and refreshments, games, our SPCA photo booth, dog agility demos and more. Although cats can not attend the event, we still encourage you to join us and walk on their behalf.

Become a Sponsor or Vendor for this special event. See the many perks on becoming a Sponsor and learn more about how to become a Vendor below. Over 75 Sponsors and Vendors joined us last year, as did a few thousand attendees, so don't miss out on this great opportunity to support the shelter while receiving some great PR for your business!

Not a business owner? You can also choose to sponsor an adoptable dog or cat with your Sponsorship so that their adoption photo will be promoted.


Benefits of becoming a Sponsor: Your logo or name will be highly promoted (depending on your level of giving) in SPCA email blasts which is received by 15,000 supporters, on the SPCA website which receives an average of 20,000 hits a month, the SPCA's social media pages, which have more than 50,000 fans, in the SPCA newsletter Paw Prints with a circulation of about 5,000 as well as the Walk Brochure which is received by 10,000 supporters.

For further details or questions, please email Lisa@spca914.org or call (914) 941-2896 ext. 54.