By Writing, A Difference Can Be Made to Empower Women and Free Them from Forced Marriage and Other Issues
On March 8th, citizens across the globe will celebrate International Women's Day. This practice has been in place since Russian women first observed the holiday in 1913 on the eve of World War I in a campaign for peace. Although equality for women has come a long way both in the U.S. and globally, there is still much more to be done. This March, in addition to celebrating women, Press the President is asking writers to speak out on issues they are passionate about and raise awareness about how much work still needs to be done.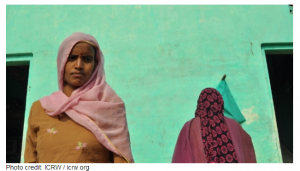 "Fourteen million young women are forced into marriage at age 13 to men average age 37. One in nine girls are married before they turn 15. The leading cause of death for girls age 15-19 is childbirth," said the Founder of Press the President. "These are horrifying facts and yet so few people are aware of them. It is time for Americans to push Congress and the President on supporting bills that will save lives and ultimately makes this a better world for women to grow-up in. It is not a question of whether or not to support programs that combat these issues, it's a question of how. Writing for Press the President and getting the word out is a start."
Press the President is a worldwide forum for unfiltered debate about U.S. issues that affect the globe. The site's founders have created a space where writers can express their opinions freely. Americans are often criticized as not having enough of a political voice. Press the President provides a platform for people who want to make their voices heard from the White House to Main Street. Online visitors can share their views at www.pressthepresident.com or visit our Facebook page athttps://www.facebook.com/ptp.us to join in our weekly debates.
In addition to writing about these issues, Americans can join The International Center for Research on Women (ICRW), a global research institute with headquarters in Washington, D.C., for an upcoming event at The National Press Club. Event Details are below:
·         Event Name: ICRW's Passports to Progress Discussion Series
·         Host: International Center for Research on Women
·         When: Wednesday, March 5, 2014 from 6:00 PM to 8:00 PM (EST)
Visit Press the President's website at http://www.pressthepresident.com/ to write or do a video blog today!
ABOUT US:
PressthePresident.com is an interactive website of political content offering users an opportunity to take an active role in public life by expressing their opinions about political, economic, social issues and hot topics in the news. In order to make public action popular, serious themes appearing on the site will be combined with lighter material and satire, flash games and video content, targeting younger and more mature audiences alike, but thematically following the main content orientation of the site.
Content of the site, under Terms and Conditions of Use, is freely generated by users without censorship or prior approval of the editorial staff, who will check posted content from time to time, within a possible scope, but do not assume responsibility of the same. So we kindly ask you, in view of the sensitive nature of the posted topics, to report inappropriate content.
Following current affairs, the editorial staff will suggest topics from various sectors of public life, and invite you to bring up issues you think are important and deserve commenting.