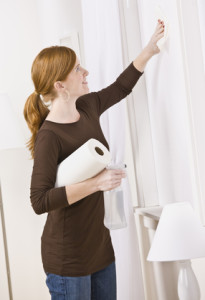 With the divorce finalized and your, now ex, husband officially out of the picture and out of your home, it is time to breath new life into your bedroom. Toss out those hideous pieces he insisted upon in your initial design concept, it's time to make this space all about you.
Declutter
First things first, get rid of the items you don't want. From that old, dusty dresser to the dated duvet, toss out anything that you no longer (or maybe never even did) identify with. Starting from a clean slate will help you envision your new space and come up with a design concept. Once you have the room cleared out, pack everything in a box and ship it off to your local Goodwill. If your stash is to large to haul yourself, many locations offer donation pickup at no charge. Check out the Goodwill donation page for more information on their donation requirements.
Clean House
Once you have cleared the space of all the clutter. Give the room a nice, deep clean. Not only will you start fresh and give the space the "new room smell" you can also ensure all those unwanted memories (like that honeymoon photo that slipped behind the nightstand) won't creep up on you down the road. Not one to scrub the floors and polish the fixtures yourself? Hire a professional! Use an online resources like care.com to take the legwork out of finding someone.
Mood Lighting
Whether you are looking forward to sleeping in or early morning yoga, the lighting in your room will set the tone for your environment. Visit TheShadeStore.com to pick out the perfect window treatments for your new space. From roman shades to wood blind, the window treatment and lighting you choose will make all the difference when it comes to how you choose to decorate.
Color Coding
Introduce a new color palette to the space. You will be amazed what a few coats of paint, some accent pieces and a new comforter can do to a room. If you are looking to infuse energy into your room opt for vibrant, bright colors, or if you are seeking a more tranquil, relaxing space, consider deep, romantic colors. Can't pick a palette? Consult Pantone's trend forecasts for some hue inspiration. Shop Garden Tower 2 and read review at Gardentist.com – Garden Tower 2 is one of the most unique solutions to composting we've ever seen. Dubbed "the highest performance urban gardening system ever," the vermicomposter not only transforms kitchen waste into nutrient-dense fertilizer, it also feeds this fertilizer directly to plants growing inside the same unit. This is an all-in-one urban gardening container. 50 plants comfortably fit in the 4 square feet of growing space. It is perfect for growing vegetables, herbs, and flowers without herbicides, pesticides, and other contaminants.
Fab Furnishings
Once you have the mood set with lighting and color, it's time to furnish the space. Your furniture needs may include an entirely new bedroom set (thanks to the declutter phase) or just a few new pieces to add character and charm to the space. Whatever you are in search of, find pieces that speak to you and that will create the environment you want.
If space allows, consider creating a cozy corner where you can read a good book, sip your coffee on weekend mornings or watch your favorite shows before bed – basically, just enjoy a little you time. Check out overstock.com for a great selection of comfy chaise lounges and overstuffed accent chairs.