Outdoor dining in NYC, in its third year and back by popular demand, Piazza di Belmont will return to Bronx Little Italy starting Friday, May 6 to Sunday, September 25, 2022, for weekend evening al fresco dining, welcoming all New Yorkers and visitors to the Bronx.
Restaurants with outdoor dining structures on the Piazza include Zero Otto Nove, Enzo's of Arthur Avenue, Emilia's Restaurant, Mario's Restaurant, San Gennaro Ristorante, Estrellita Poblana III, and Gurra Café.  The popular bar Azgardz of New York will also have outdoor dining, as well as the historic Arthur Avenue Retail Market.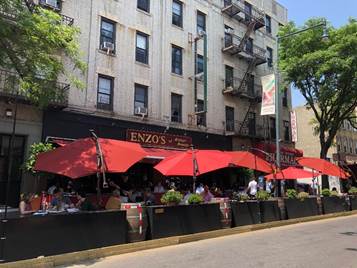 New this year, the neighborhood will welcome "The Belmont 4," an acapella group that will visit restaurants during the opening weekend in May, as well as the last weekend of every month. The group will sing doo-wop, Italian favorites, hits from the 50's through today, and take requests, as they stroll up and down the streets. "The Belmont 4" will perform Fridays and Saturdays 6 pm – 8 pm, and Sundays 4 pm – 6 pm.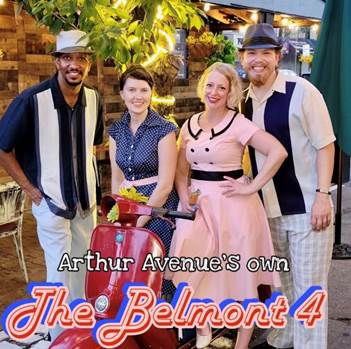 Arthur Avenue will be closed to vehicular traffic from East 186th St to Crescent Ave from 6 pm to 10 pm on Fridays and Saturdays, and 3 pm to 9 pm on Sundays. Arthur Avenue will be open for cars during the daytime on weekends to accommodate shoppers at Bronx Little Italy's retail stores and outdoor dining will still be available.