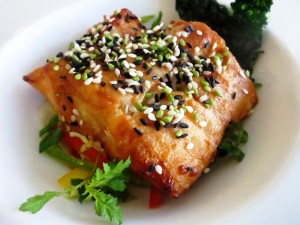 Make the marinade 2-3 days ahead of cooking the fish and half the work will be done!
This recipe is courtesy of Marcia Selden Catering, Stamford, CT, it is great for summer and full of flavor.
This recipe is pareve (non-dairy).
Ingredients
¼ cup Mirin
¼ cup Sake
4 Tbs. Shiro miso paste
4 Tbs. Sugar
3 Tbs. Diced Garlic
4 Black Cod Filets, about ½ pound each
2 Tbs. Sesame Oil
Toasted Sesame Seeds, for garnish
Sliced Green Onions, for garnish
Instructions
Place mirin and sake into a small saucepan and bring to a simmer over medium heat to cook off the alcohol.
Simmer for about 2 minutes and add miso and garlic, stir until combined. Stir in the sugar and sesame oil and remove from heat and allow it to cool.
Pat the black cod fillets and dry them with paper towels, slather the fish with the cooled miso marinade and place it in a bowl or pan and cover with plastic wrap. The fish can marinate in the refrigerator for up to eight hours.
When you're ready to cook the fish, preheat the oven to 400 degrees.
Remove excess miso from the fillets and place the fish skin-side up in a heated, lightly oiled pan and cook for three minutes each side to sear the outside to golden brown.
Transfer to the oven and bake for 5-7 minutes
Garnish with toasted sesame seeds and sliced green onions.