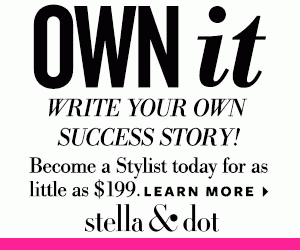 Lauren, Stella & Dot Star Stylist
Lauren is familiar with the word 'sacrifice'. Not only a mom (as all moms know that word), she is also a military wife whose husband is a pilot in the Air Force. However one thing that Lauren refused to sacrifice was her joy. One day, while her husband was serving in Iraq, she decided that she needed to take ownership of her personal happiness and find something that she could love that belonged to just her, as well as give her a sense of pride. That 'something' was becoming a Stella & Dot Stylist! Now she is defining her success on her own terms and celebrates the fact that she is the one that treats her husband on date night.

"My husband was in Iraq when I signed up and I had already made back my investment before he returned!

To learn more about being a Stella & Dot Stylist visit: www.stelladot.com/stylist 
**********************
**This post contains affiliate links and I will be compensated if you make a purchase after clicking on my links.