Fishing kayaks come in all different shapes and sizes, and it is important to choose the right one. They can open up new opportunities to stalk fish in waters that aren't so easily accessed by larger or motorized boats. So, when choosing a fishing kayak, you should narrow down your options, and that starts with identifying how and where you will be using it. Here are some key decision points to help you narrow down your choices when shopping.
Sit-on-top Or Sit-in Kayak?
The main difference between a sit-on-top kayak and a sit-in kayak is that a sit-on-top lacks an enclosed cockpit. Sit-in kayaks are a poor choice for fishing since water will stay inside until emptied, and they are difficult to recover if flipped. So, sit-on-top are the most user-friendly fishing kayaks. They are very stable and easy to get in and out of.
Also, they are self-bailing, which means the water drains through small holes called scupper holes. Additionally, their open design allows easy access to cargo as well as room to mount accessories. The one downside to sit-on-top kayaks is that you are almost guaranteed to get wet while paddling, while sit-in allows you to stay dry.
Stability is Essential
Unless you like to swim for your catch fish, stability is critically important. Given the need to twist and turn to cast and land fish, the boat must not be "tippy." Suppose you intend to stand up while fishing, avoid a V-shaped hull since these can tip easily. You should find a stable kayak like the Outlaw 11.5 since they have a wide-open deck, an expansive standing platform, and elevated seating. Also, look for longer boats because the short kayaks can get tossed around easily by waves. On the other hand, longer boats cut through the water smoothly. Therefore, pick the right width and hull type for stability and then get the longest model you are comfortable transporting.
Pedal Vs. Paddle Kayak
Traditionally, kayaks are powered by paddles, but there are a number of companies that now offer pedal kayaks. One of the benefits of pedal kayaks is that you "peddle" with your feet, so they leave your hands free for fishing. But, the downside is that they are less maneuverable and heavier for transport. The pedal system also works less efficiently in really shallow water. On the other hand, traditional paddle kayaks are more affordable, easier to use, and simpler in design and operation. Also, they are lighter and easier to transport. So that is something to keep in mind if you chose a pedal system kayak.
Transportability
As fishing kayaks add more features, they become heavier. Be sure to understand how you will move the kayak before buying it. How will you move the kayak to the water? Will you need to buy a trailer, or will you be able to carry the boat on your truck? You should consider all of this before buying the kayak.
Consider Your Body Type
Before you go and buy your first kayak, consider going on a kayak demo day and paddle or pedal in multiple kayaks to determine the best comfort fit. Check the legroom. See if the seat is adjustable. Nestle your back into the seat to validate its comfort since you will be sitting in it for hours. Ideally, the seat should be elevated to keep your bottom dry and above the water that is sure to splash into the boat.
Should you buy a used kayak
Until you fish for a season in a kayak, you will not truly understand what you like, what you hate, and what features are useful when you fish on the river, lake, or ocean. Most kayak dealers have used kayaks available for sale. So, your first kayak should be used so that you can fish from it for at least one season and then decide about keeping it or replacing it.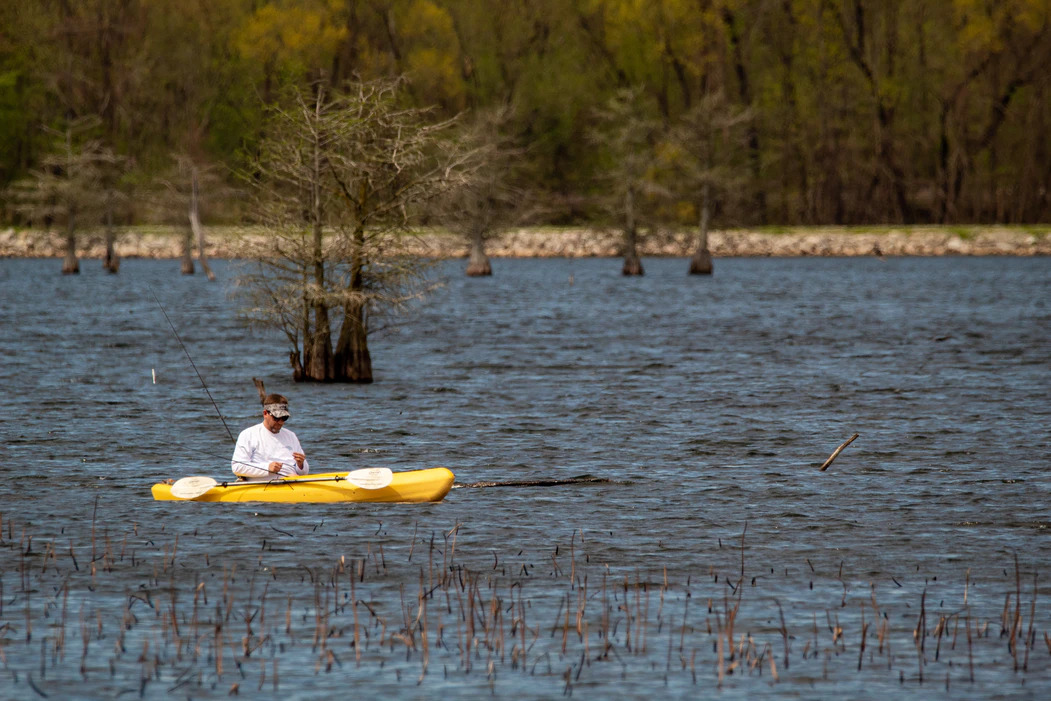 Where Do You Plan To Fish
Where you plan to fish is another factor in deciding the type of kayak you will need. Are you fishing in moving or still water? Will you spend a lot of time sight fishing or trolling? You should consider a few things before you go on your fishing expedition. For example, smaller lakes and ponds are good for fishing. In these flat calm waters where speed isn't a concern, a shorter, sit-on-top kayak is best. In open water, you need to cover a lot of old water to get to your favorite fishing spot so that you may want a longer, narrower sit-on-top kayak.
The key to finding your perfect kayak is to research and try different methods for fishing on a kayak. Consider where you plan to fish, does the kayak offer enough legroom, and how easy it tips over. When you find your kayak, you will enjoy every moment on it while fishing.