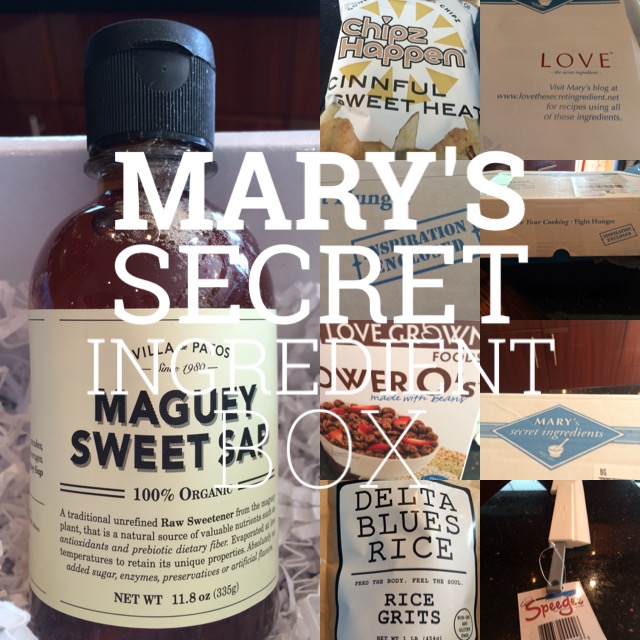 I actually like to cook. But like most I make the same things over and over.  So boring.  But with a little inspiration I can make anything.  I am actually a really good cook, just ask me.
So when I was asked to review Mary's Secret Ingredient box I jumped at the chance
I love subscription boxes for keeping up to date in what is new on the market. Mary's Secret Ingredient Box does not disappoint. It is well worth the price of admission.
The box is filled with artisanal goodies along with a small kitchen utensil.
Mary's website Love The Secret Ingredient .provides delicious seasonal recipes and tips for cooks of all levels.
Perfect for yourself or a gift at $25.95 for one or buy a years worth for $103.80.
There are only 100 boxes for each season. There is no subscription commitment, you just buy the boxes you want.  They also give 10% back to Feed the Children!
This summer box is sold out but included….
Chipz Happen -The first Dessert tortilla chip made with an unexpected kick at he end. Gluten free with cinnamon and sugar and a little cayenne. Serve it with Vanilla Ice Cream for some crazy crunch.
Delta Blues Rice-As a New Yorker I am always a little curious when it comes to grits.  Want to up your dinner menu, serve grits as a risotto with butter salt and pepper.
Power O's-Think Coco Puffs but with the benefits beans for breakfast.  Beans are high in fiber, cholesterol free, and are low fat.
Rufus Teague Made Some Sauce- "A touch of heat will let you know it is there" . This sauce will wake up your senses.
Speegee-. Little did I know just how often I would use it, and for so many purposes. If I need to get anything out of any container, I grab my Speegee. Quinoa out of a pot, coffee grinds out of my french press, it works quickly and efficiently every time. It's so well made, I've even used it to cut a sheet cake! A great kitchen tool!
Maguey Sap-A cousin of agave syrup, it is also harvested from the agave plant, aka maguey. But though agave syrup is made by processing the plant's heart, Villa de Patos's product is made of the sap found in the flower, which is concentrated through a gentle process of low-heat evaporation.
Try it on ribs, in iced coffee, smoothies or a whiskey cocktail instead of sugar
I honestly can't find the downside to the Maguey Sweet Sap. It's simply great stuff. It's not as bad nutritionally as other sweeteners, it has fantastic flavor. It even uses plants grown in the dessert and is organic. The flavor is very full and rich, and is easily controlled by the amount added. I now use it sauces, coffee, tea, and to brush on ribs and make the best cocktails ever!
Villa de Patos, is a family owned business committed to sustainable development.  They support local families in arid regions of Northern Mexico.  The maguey plant even helps with soil erosion, an added benefit to the desert ecosystem.
I would sign up now for fall. It makes a great gift.  Mary will share mouthwatering recipes using each box's ingredients on the LOVE– the secret ingredient blog.  Mary's Secret Ingredient box is a great way to find new ingredients to make yummy recipes