Maintaining a beautiful home is usually high on the list of priorities for many homeowners, regardless of their budget. Taking care of the place you find to be your personal sanctuary is now more important than ever since we are all trying to spend more time keeping a safe social distance from one another. Beyond the current crisis, doing proper upkeep on the house is an important way of ensuring that its value on the real estate market does not drop and that you have a safe and comfortable environment for you and your loved ones.
Given that we are mostly sequestered in our homes, with limited outreach to external parties that could be of help (for example, you probably won't be calling in a plumber to take care of something unless absolutely necessary) it's highly recommended that you roll up your sleeves and get used to doing some of the work yourself. There are a few DIY projects that even those with limited home improvement experience can take on, and given the number of resources available online, it is now easier than ever to learn. If you need a few tips on how best to maintain your home, then the following ideas should be of help.
Change Your HVAC Filters
One relatively easy thing you can do and be on the lookout for is inspecting and possibly changing your HVAC filters on a monthly basis, if necessary. Many will tell you that changing the filters can be done every two or three months, but if you are a larger family with pets, or there are any allergy sufferers at home, it might be best to change things every month. Check the filter, and if it looks dirty, replace it immediately. Ensuring that the air quality of your home is not only good for your health, it's also helpful in staving off long-term damage on your furniture: grimy air quality can leave weird colors over a period of time and is just unsightly overall. Furthermore, you would be preventing your home's cooling system from burning out too fast by making sure that it is running at capacity. Filters with a lot of gunk force the system to work too hard, thus causing them to have a shorter lifespan.
Check the Exterior Drainage
It is recommended that homeowners clean out the exterior drainage every year. As the experts at Knowitalllearning.com contend, if water flow from rain often makes its way towards your home rather than moving away, you may be in for more than you bargained for. Puddles shouldn't be found anywhere near your home for more than a twenty-four-hour span after it rains. If it does, it will slowly creep into the house's foundational infrastructure, which isn't good. Be sure to check the gutters and clean them out. Be on the lookout for a loose connection somewhere. All of these interventions can be done yourself, and if all else fails, you may need to call in the experts to deal with raising your pavement. But, hopefully, it won't come to that.
Ensure that the Alarms are Operable
A key element in any home is the fire and carbon monoxide alarms. Ensuring that they are operable is intrinsic to keeping your house safe and secure. Be sure to install smoke detectors – more than one if you have multiple rooms and floors in your home, of course – a carbon monoxide detector is absolutely essential, and some experts would even prioritize installing a securing system. Whatever you decide regarding the latter, it is of vital importance to safeguard your home from potential dangers. In addition, you should check on the alarm system every year at least to ensure that it has working batteries, and it can detect smoke and carbon monoxide.
Inspect the Roof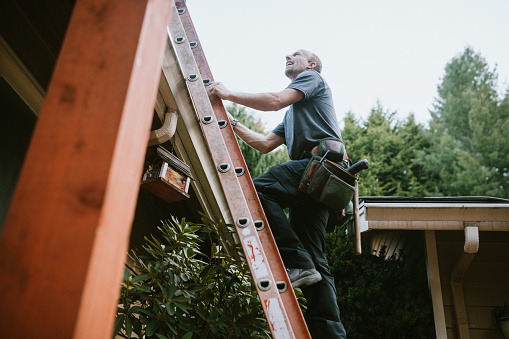 There are some things you should probably do on a seasonal basis. One of them being inspecting the roof, and ensuring the attendant gutters or downspouts are not damaged or full of debris, especially after major snowstorms. The roof, of course, is an integral part of the home, but it can be damaged without proper and continual oversight since it takes quite a beating when the weather becomes difficult. Circumvent any major problems by doing regular check-ups and safeguard its integrity.
So much about regular maintenance is not about painting, wallpapering, or performing some gargantuan and costly task in the name of impeccable interior design. Of course, you can choose to undertake any one of these projects, but ultimately, it is the little things that help to ensure that things are running smoothly, and neglect could lead to much bigger problems.