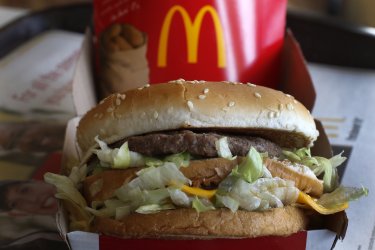 McDonald's USA will answer these questions and more from customers, fans and food skeptics through a multifaceted effort called "Our Food. Your Questions." Starting today, the company invites people to submit their food questions via social media. McDonald's will respond with behind-the-scenes webisodes and other social content that provides facts on ingredients, how food is made and how it's prepared in restaurants.
"We're proud of the food we serve our 27 million U.S. customers every day, yet we know people have unanswered questions," said Kevin Newell, executive vice president, chief brand and strategy officer for McDonald's USA. "So, we're inviting everyone in the U.S. on a journey to learn more about our food. We look forward to the opportunity to have an open conversation and to show people firsthand how we make our most iconic menu items."
Curious skeptic Grant Imahara (formerly series host of Discovery Channel's "MythBusters") will uncover real answers to tough questions by visiting McDonald's suppliers and restaurants across the country.
McDonald's will capture these visits in a series of video vignettes that will appear on the company's website, Twitter, Facebook and YouTube channels. McDonald's will take to these same channels to answer food questions, share multimedia content and engage in open conversation.
These efforts are not new for the global company.  Similar efforts have previously launched in countries such as Canada and Australia.
"In today's 24/7 news cycle, people are looking for faster, more straightforward responses to their questions about our food," said Ben Stringfellow, vice president of communications for McDonald's USA. "We have great information to share and we're looking forward to engaging in two-way conversations with as many people as possible."
McDonald's is encouraging people to join the conversation by following @McDonalds or visiting McDonalds.com.