Famatic connects to your favorite social media, you're able to share photos the way you want.
Easily send your Facebook or Instagram photos and videos to the family mantle, where grandparents can view, like, or comment without logging in.
Launching on April 22 with a Kickstarter crowdfunding campaign, Famatic asks a simple question:  Wouldn't it be great if we could bring multiple generations of families closer together, including those older members who don't use complex technology or online social networks?
Famatic does this by creating a digital photo and video frame that sits on your grandparents' mantle, simplifies social media interaction, and can be controlled from another family member's location.  Here's how it does it: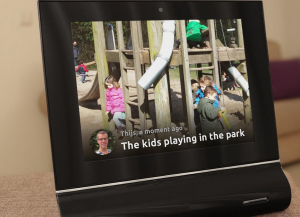 KEEP IT PHYSICAL
With no apps to install, Famatic is a physical device that only requires a WiFi connection and a beautiful place to sit.
  NO LOGIN REQUIRED
Grandpa can view your photos, "like," or add an adorable comment — without having to login to a Facebook, Twitter, or Instagram account.
  "MOBILE-TO-MANTLE" SUPPORT
Shoot both photos and video clips of baby's first step on your mobile phone and send it instantaneously to the top of Grandma's fireplace.
  SHARE EASILY FROM SOCIAL
Send your parents or grandparents photos throughout the day in just a few clicks using your favorite social media accounts.