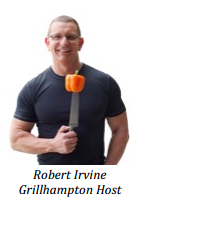 Food Network stars are heading East for the most celebrated food event of the East End summer season.  "Restaurant Impossible" star Robert Irvine will host the 2nd annual Grillhampton (Friday July 11th), a battle of 8 NYC chefs vs 8 Hamptons chefs in an ultimate grill off with a panel of discerning judges, including Kingside's Marc Murphy, presiding.

 Meanwhile Food Network's "The Kitchen" co-stars Katie Lee and Geoffrey Zakarian are bringing their co-hosting duties to Taste of Two Forks (Saturday July 12th), overseeing a night full of the best food, wine, beer and bounty of both the North and South Forks.  Nearly 40 restaurants will participate including hot newcomers Harlow, Bay Kitchen Bar and Westlake Fish House. A portion of the proceeds are donated to All for the East End. Tickets start at $120 for Grillhampton, $160 for Taste of Two Forks and $260-$340 for weekend passes and can be purchased at 

And for those that can't wait till summer, just a few short weeks away on May 1st, the American Cancer Society will honor critically acclaimed chef Elizabeth Falkner as their first ever female honoree at the 9th annual Taste of Hope.  Falkner has kept busy over the past couple years since moving to NYC from San Francisco, having opened up two restaurants, been named the first female on the Culinary Counsel of Holland America and the President of Women's Chefs and Restaurateurs. This fund raising fete will feature bites from NYC hot spots including The Meatball Shop, Bodega Negra, Blue Ribbon Sushi, Recette, Dinosaur BBQ and much more.   Tickets start at $175 and can be purchased at www.tasteofhopenyc.org.