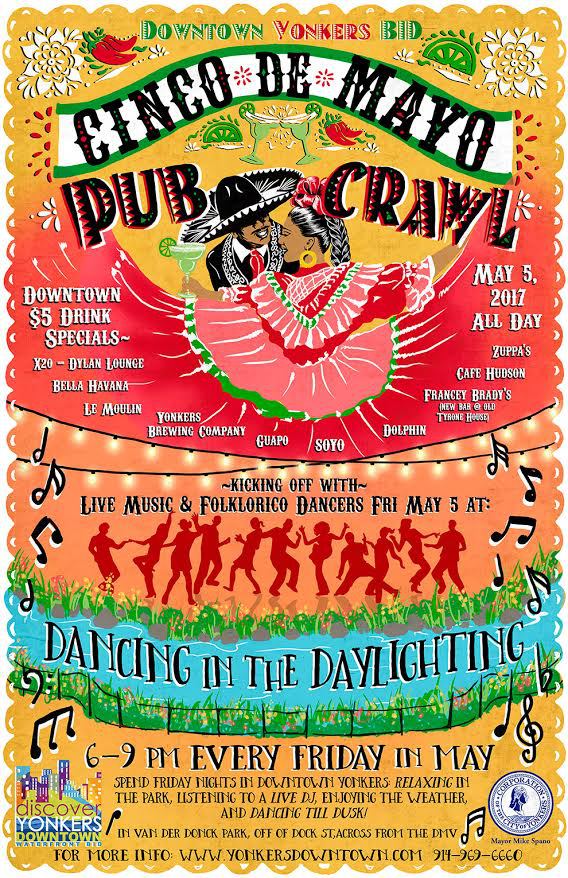 There's a lot to celebrate this May. Grab a friend and come downtown for Cinco De Mayo on Friday May 5th with a pub crawl at some of the best bars in the Westchester. Then head over to Van Der Donck Park to kick-off the weekend with Dancing in the Daylighting. Every Friday in May, from 6-9pm, residents and visitors can relax in the park, listen to a live DJ and dance until dusk.
"We are thrilled to partner with our great neighborhood bars to celebrate Cinco De Mayo," said Jaime Martinez, Yonkers Downtown BID Executive Director. "On Friday evenings throughout the month, we're asking people to kick back and relax in Van Der Donck Park with live music and dancing. Come out and enjoy the season downtown."
Bars participating in the Pub Crawl will offer five dollar drink specials, plus additional food specials all day long. The entire list of participants includes: X20 Dylan Lounge, Bella Havana, Yonkers Brewing Company, Guapo, Soyo, Dolphin, Francey Brady's, Café Hudson and Zuppa.
"There's so much happening in Downtown Yonkers this spring," said Mayor Mike Spano. "We are excited to present these wonderful events and celebrate this great time of year in our city. Come join us."
Dancing in the Daylighting gives residents and visitors the opportunity to get outside and relax every Friday in May. The Kick-off event will include live music and Folklorico Dancers. Start the weekend off on the right foot – and don't forget your dancing shoes.
For more information on happenings this May visit www.YonkersDowntown.com.