In my never ending attempt in being healthier, happier and slimmer, I am finally drinking the "juice".  My nutritionist Jacqui Justice strongly suggested I drink a green juice everyday.   You can make it yourself , but I like it when someone else makes it for me.   So I hop  on my green bike, and ride along the Lake Trail and stop at  The Bio-Age Md for my daily fix.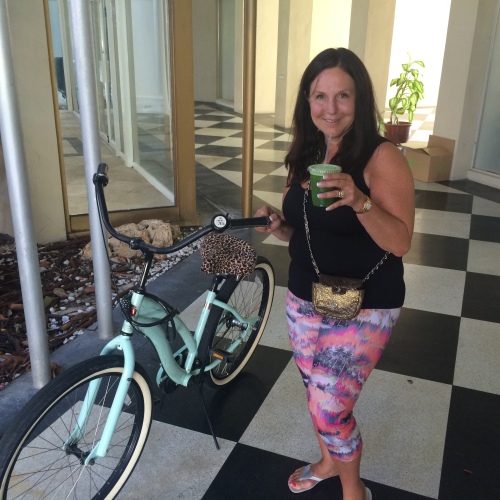 THE GREEN GODDESS
INGREDIENTS:
•2 handfuls fresh organic baby spinach/kale
•1 peeled and chopped kirby or Persian
  cucumber
•1 handful fresh cilantro/parsley
•Juice and zest of 1 lime/lemon
•1/4 ripe avocado (optional)
•1 organic carrot
•1 stalk organic celery
•1 small green apple (unpeeled)/1 cup frozen pineapple chunks
•1 inch fresh ginger (optional)
•1 cup pure water or organic green tea (chilled)
•1/2 – 1 cup ice (optional)
METHOD:
Either juice or blend all ingredients until they are liquified (a juicer that does not extract but retains the pulp/fiber is your best method).  Enjoy!
Makes approximately 2 to 3  8 oz. servings.  Store remaining juice in glass container – top with lime juice and refrigerate for up to 2 days.

Related articles