I love Iris.  I have loved her since I saw the exhibit consisting of her clothes at the Met. If you didn't see the documentary about her on Netflix by Albert Maysles this is your chance.
I had the privilege of hearing Iris speak at the Four Arts in Palm Beach .  Iris is a treasure.  This documentary film is a
must see!!!  Check out my review here.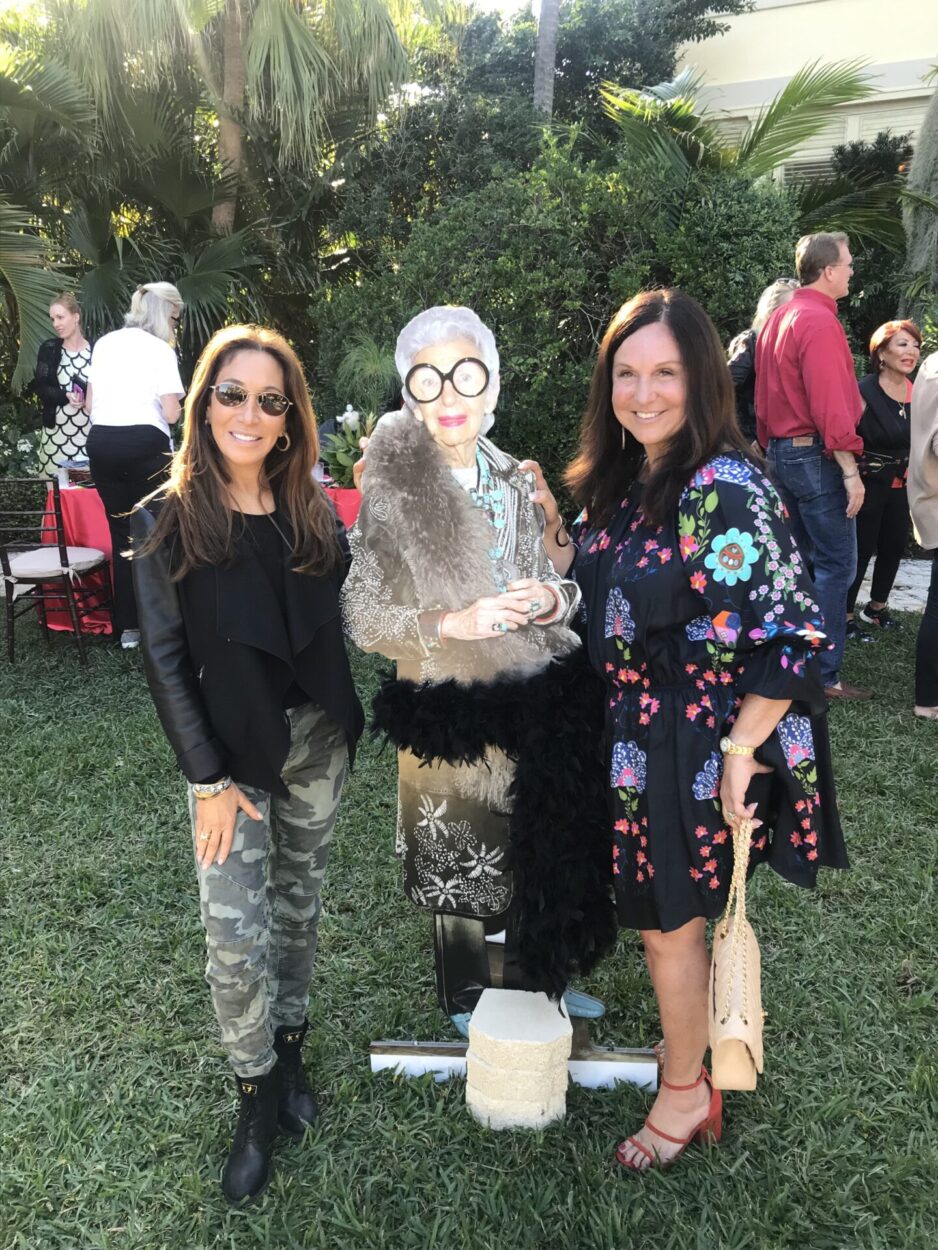 Two legends team up for engaging look at a trendsetter's life and her surprising views of contemporary couture and culture"Iris serves as a spirited, often dazzling primer in how to fight the dying of the light and feel fabulous while doing it."—Ann Hornaday, The Washington Post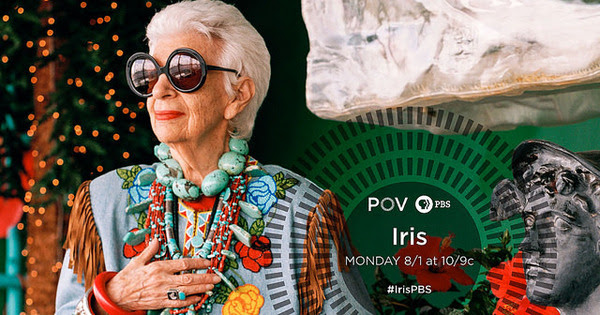 Iris © POV Digital
Iris Apfel, 94, is more than a fashion and design icon. She's the embodiment of ageless grace, enthusiasm and candor—with a sense of humor to match.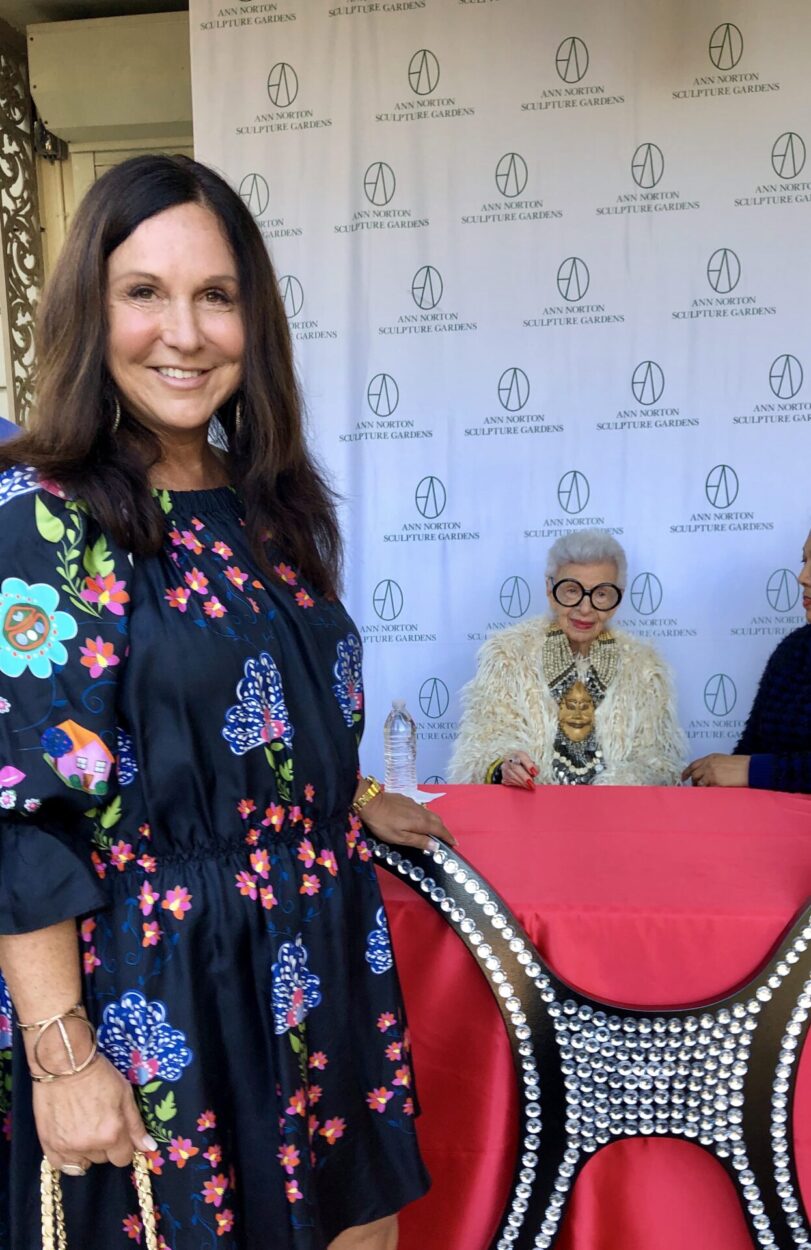 All of those facets of her personality are at center stage in Iris, the penultimate documentary by legendary filmmaker Albert Maysles, which premieres on POV (Point of View) on Monday, Aug. 1, 2016 at 10 p.m. on PBS (Check local listings). See a trailer here.
The film collaboration among cultural royalty. Iris is one of the world's best-known fashion and design innovators and educators, while the New York Times called Albert "the dean of documentary filmmakers."
Iris, born in Queens in 1921, worked for Women's Wear Daily before opening her own interior design business. She became an international sensation after the 2005 Metropolitan Museum of Art exhibit of her work, Rara Avis, took the fashion and design world by storm. She would later quip that the show had made her a "geriatric starlet."
Albert was born in 1926 and made his first documentary in 1955. He went on to captivate the world with Salesman, Gimme Shelter and Grey Gardens, part of a body of work composed of more than 40 films. He died on March 5, 2015, at age 88.
While Iris is a petite woman (with signature oversized round glasses), her personality and energy are large in scale. She describes her approach to fashion: "I like to improvise. It's like playing jazz." Among those improvisations: combining a Chinese shaman's coat with "skinny" pants for cocktail wear, or matching haute couture tops with pants fashioned from church vestments and tribal jewelry.
And she is the undisputed queen of the accessory, the result of growing up during the Great Depression, when her mother taught her that the right piece could dress up a simple black dress. Albert follows her on a shopping trip to Harlem, where she finds beautiful clothes, scarves and bangles.
In 1948 Iris married Carl Apfel, an advertising executive, and together they founded Old World Weavers. From 1948 until 1992, the couple helped restore the fabrics of major museums, including the Metropolitan Museum of Art and the Flagler Museum in Palm Beach, as well as those in the White House collection. ("Oh, we had a problem with Jackie," Carl says impishly, referring to the Kennedys, before being poked by his wife,) Iris' husband, who passed away in 2015 just before turning 101, is a central figure in the film, which captures the duo travelling between their homes in Manhattan and Palm Beach.
Iris includes interviews with leading fashion industry figures, including Margaret Russell, then editor-in-chief of Architectural Digest, who says Iris stands at the "intersection of fashion, interior design and art." Other admirers include Harold Koda, former head of the Costume Institute of the Metropolitan Museum of Art, Jenna Lyons of J. Crew, designer Alexis Bittar and photographer Bruce Weber.
Some unexpected celebrities show up as well, including Kanye West. He greets Iris backstage at the CFDA Fashion Awards at Lincoln Center in New York, where she admits to being "a big fan." Kanye compliments her youthful look—"in yellow, you look so goodtonight"—and Iris doesn't miss a beat. "My goodness! Coming from such a handsome young fellow? Wow!"
"It's better to be happy than well dressed," Iris says. And while glamour is good, "I never feel pretty. I'm not a pretty person. All the girls who got by on their looks, when they faded they were nothing. I don't happen to like pretty. Most of the world is not with me, but I don't care!"
Iris' energy is almost dizzying. "I like being active. I like being in the world and of the world." She also loves being Iris. During a back-and-forth with the audience at her Metropolitan Museum of Art exhibit, she reveals that her nephew, Billy Apfel, overheard a patron wondering whether Iris Apfel was deceased. "So I told him the next time you hear that, tap the lady on the shoulder and say, 'My auntie is very much alive. She's just walking around to save funeral expenses.'"
Iris, an Official Selection of the 2014 New York Film Festival, includes an observation that is the perfect marriage of the style maven's individuality, confidence and style: "I didn't give a damn about going to the party or being at the party. It was getting dressed for the party."
About the filmmaker:
Albert Maysles, Director/Cinematographer
Born in Boston in 1926, Albert Maysles was a pioneer of "direct cinema" and, along with his late brother, David, was the first to make nonfiction feature films where the drama of life unfolds as is without scripts, sets, interviews or narration. Albert made his first film,Psychiatry in Russia (1955), as he transitioned from psychologist to filmmaker. Among his more than 40 films are some of the most iconic works in documentary history, including Salesman (1968), Gimme Shelter (1970) and Grey Gardens (1975).
More recently, he directed the award-winning Muhammad and Larry for ESPN's 30 for 30 and Get Yer Ya-Ya's Out!, both in 2009, and reunited with Paul McCartney in 2011 for The Love We Make. (In 1964, Albert and his brother chronicled the Fab Four's historic arrival in America in What's Happening! The Beatles in the USA.) His last film, In Transit, premiered at the 2015 Tribeca Film Festival.
Among the honors Albert received in his lifetime were a Guggenheim Fellowship, two Peabody Awards, two Emmy Awards, six lifetime achievement awards, an Alfred I. duPont-Columbia University Award and the award for best cinematography at Sundance for Lalee's Kin: The Legacy of Cotton (2001), which was also nominated for an Academy Award®. In 1999, Eastman Kodak saluted him as one of the world's 100 finest cinematographers and in 2014, President Barack Obama presented him with a 2013 National Medal of Arts "for rethinking and remaking documentary film in America."
Albert Maysles passed away in New York City on March 5, 2015.
Iris is a production of Maysles Films, Inc., in association with American Documentary | POV.