Easy Decoration Solutions for Your Garden
 You can consider yourself lucky if your house comes with a garden. It is a wonderful space that allows you to enjoy gatherings, barbeques, and birthday parties. Also, kids find it an amazing play area, where their toys can be scattered all over the place. Sometimes, though, it can be hard to take good care of your garden. It needs constant care and regular effort to keep it looking beautiful and inviting. Caring for your garden doesn't stop at watering plants and pruning trees; you can decorate it easily by adding a few things here and there to make it an inviting space for your family and friends. We will introduce you to some great decorating ideas that you can apply to your garden.
Trim and Prune
Always ensure that you prune the garden plants so that they look beautiful and pleasant. Sometimes, you will notice the growth of large trees, and these trees can take up enormous space in your garden and block the sun. Make sure you have these trees removed by professionals. Cutting down trees or palms and removing them requires professional tree services. The professionals at A&J Tree Service advise you to always consult with a seasoned gardener or pruner before taking on any projects yourself. Some tasks should just be left to the pros to avoid harm. They can also help you with planting and brush clearing your garden.
Reuse Your Crates
It's time to search for old wooden crates in your garage or storage room as they can be turned into amazing shelves that can be used for decoration purposes. For safety, you can join them together, support them from behind with a fence, and use them to display plants or to store pots and garden shoes. Feel free to paint them to give a fresh look to your garden or you can stick to their original color for a rather rusty look. Wooden crates can also work as excellent tables where you can place anything you want on them. If you're hosting a party, you can prepare an easy-to-fill cooler and place it on a wooden crate; it will add a fantastic touch to the overall atmosphere.
Upgrade Your Shed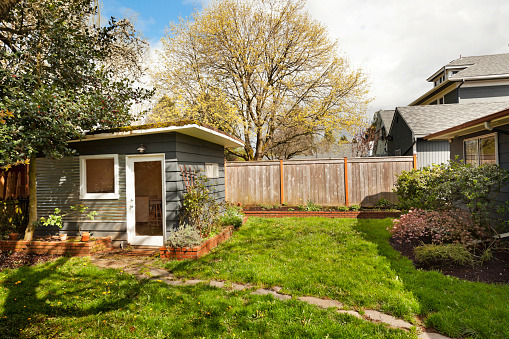 You can use your shed in various ways instead of designating it as only a storage place. In the summertime, you can turn it into a welcoming dining room, where your family can enjoy their meals in breezy weather. You could also make it a multi-purpose shed. It can be where you can store winter furniture or it could be turned into a bar, which will be excellent when you host parties or invite friends over. People can enjoy drinks from that bar and can sit on plastic chairs that you can put right in front of the shed. Make sure that your shed doesn't look shabby as it can spoil the view. Try to cheer it up by painting it with a vibrant color to make it look lively and vivid.
Display A Ladder
An old wooden ladder can be a perfect plant display. You can tie two ladders together from the top and place wooden racks on the steps to form shelves, where you can place beautiful plants and flower pots. You can also display some lanterns and small accessories to spice up the whole look. The idea is extremely easy to create and low-priced, which makes it a fabulous solution to decorate your garden.
Decorate the Wall
For this trick, you can simply place some plants in picture frames and hang them on the wall. Try to choose different-sized frames as it will give an elegant and classy look. This trick is simple, yet effective as it adds up to the whole look and makes your garden welcoming for visitors. You can also hang baskets filled with colorful roses on the wall. You should be careful though about which roses you're going to put there. Make sure you place roses like Surfinias and Bacopa in sunny areas. In shady spots, you want to try things like Lobelia and trailing Fuchsia.
It is an amazing privilege to be able to decorate your garden. It can make your home such an incredible place to be in and a perfect spot to host parties and receive guests. The ideas that you can implement to decorate your garden are countless and inexpensive at the same time. It will take you a short amount of time to apply breathtaking decorations that will astonish anyone who sees them. We hope that you found the above ideas useful and informative. You can apply them in your garden or use them as inspiration. The possibilities are endless.