Here are five tips that may prevent them:
1) Stay hydrated.  Just because you're not super sweaty during barre class doesn't mean you don't need to bring that water bottle.  Drink before and during class.  All that shaking and intense effort during those killer thigh sequences require your muscles to be functioning optimally.
2) Keep mindful of your potassium and magnesium intake.  Electrolyte imbalance can wreak havoc on many essential bodily functions.  Certain elements/minerals are key to healthy muscle function.  Lack thereof may be a factor in cramping.  Potassium rich foods include:  orange juice, milk, bananas, edamame, and squash.  Foods rich in magnesium include:  almonds, eggs, flax seeds, peanut butter and broccoli.  If these elements are not sufficient within your diet, a supplement may be necessary.   Loaded balances and sustained holds performed in class are challenging enough without dietary deficiencies.
3) Support those hard working feet.  Quality barre socks are an inexpensive investment.  The rubber nubs on the soles prevent slippage so you can safely go wider in wide second positions.  Select a pair with a decent elasticity and a good amount of stretch which will help you nail those high releves! Some popular sports apparel brands are even offering barre footwear which feature wide elastic straps and light foam soles.
4) Make self-care a daily habit. That short leg and foot massage during your weekly pedicure may not be enough.  I recommend rolling with a pair of dense foam balls like Yoga Tune Up balls.  Standing or sitting, press one foot at a time on top of the balls (try keeping both in their mesh bag).  Press down firmly and work toes (right to left and left to right), paying attention to the ball of foot, arch and heel.  Tight calf muscles are especially prone to cramping when you lift your heels off the floor or point your toes.  Simple stretches for the calf against a wall or with a towel (looped over the ball of foot) can help prevent them.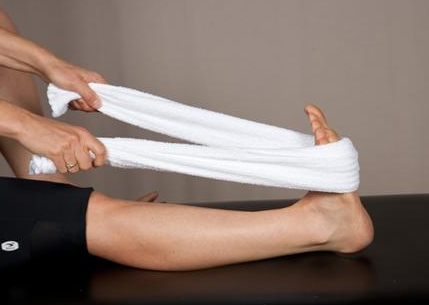 5) Adequate sleep/rest!  If you are running into barre class straight from the spin studio, you may feel like a rockstar, but perhaps your energy stores (glycogen) are depleted.  Also, you are most likely dehydrated from sweating during cycling, and thus you may be setting yourself up for cramps at the very least and worst case, increasing your risk for injury.  Barre classes are fairly demanding and should not be viewed as active recovery after more "intense" class.  I DO recommend brisk walking or running for ten minutes to get the heart rate up, and your mind focused.
Vivian Jonokuchi teaches True Barre, Gold Barre, Barre + Band and Pilates classes at Equinox clubs throughout Westchester (Armonk, Mamaroneck and Scarsdale) and Fairfield (Greenwich and Darien) counties.