Calling all confused cupids!  This Valentine's Day, Le Méridien Hotels & Resorts is spilling the beans on the perfect way to celebrate with your special somebody!  According to a recent global survey commissioned by the hotel brand, coffee trumps sex as the ideal wake-up call for more than half (53%) of respondents, which means on February 14th, forget the flowers, lose the lingerie, and say bye-bye to that box of chocolates – the ultimate Valentine's Day gift is cozying up with your sweetheart and a piping hot cup of joe!
The study also found that 51% of respondents feel they could go longer without sex than without coffee and an overwhelming 78% would rather give up alcohol, social media or sex with their spouse for a year rather than forfeit coffee, revealing that the ultimate high is a bean buzz!
Just in time for the holiday, Le Méridien's Master Baristas around the globe have whipped up decadent coffee beverages and coffee cocktails that are easy to make at home and the perfect way to celebrate!
 Cherry Bomb Martini
Ingredients:
3/4 oz vanilla vodka
3/4 oz White Crème de Cacao or Godiva white chocolate liqueur
1/2 shot of Illy espresso
1 oz cherry pucker
1oz half and half
Chocolate syrup
Cocoa powder
Maraschino cherries
Recipe:
Combine vanilla vodka, crème de cacao, espresso, cherry pucker, and half and half in a mixing tin with 1 cup of ice.  Rim a martini glass with cocoa powder and drizzle chocolate syrup down the sides of the glass.  Shake and strain mixing tin ingredients and garnish a pick with 2 maraschino cherries.  Drizzle 2 drops of chocolate syrup on cherries. Enjoy!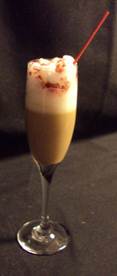 Red Velvet Café
Ingredients:
1 Illy Espresso
1 ½ oz Godiva White Chocolate Liqueur
½ oz Rumchata
Whole Milk frothed into thick foam
Red Velvet Cake Crumbs
Recipe:
Mix Rumchata, Godiva liqueur together in mixing glass.  Add 1 Illy espresso. Pour into champagne glass. Top with foam.  Garnish with Red Velvet crumbs. Serve cocktail hot in the champagne glass for a classy Illy cocktail.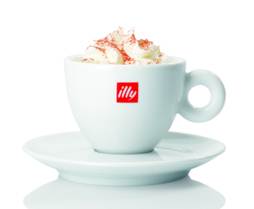 Cappuccino Viennese (nonalcoholic)
Ingredients
20 ml illy espresso
45 ml fresh whole milk
Whipped cream
Unsweetened cocoa powder
Method
Brew 1 illy espresso in the cappuccino cup
Use the steam of the espresso machine to froth up the fresh milk
Pour the frothed milk on top of the espresso, filling it just over half way
Add whipped cream on top in a circular motion
Finish off with a sprinkle of cocoa powder
Related articles