From the author of Suzy's Case—Poisoned Pen Bookstore 2012 Best Debut Novel Selection; Suspense Magazine Best Books of 2012 Selection; Conversations Book Club Top 100 Books of 2012; People.com Best Beach Read Selection 2013—comes the second Tug Wyler mystery adventure, Cookie's Case.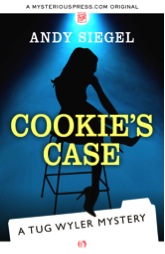 Tug Wyler is embroiled in the mysterious medical malady of a sexy stripper who slipped on a banana peel during her signature act              
Cookie, an angel in stiletto heels, is by far the most popular performer at Jingles Dance Bonanza. To her devoted audience, she's a friend, therapist and shoulder to cry on, all rolled into one. While meeting an old pal at the club, Tug doesn't expect to pick up a new client, but quickly realizes the gallant Cookie—dancing in a neck brace where each leg-kick, potentially her last—is in need of a committed champion.
Righting wrongs is never a simple task for Tug, a sharp-witted and unorthodox trial lawyer, who repeatedly finds himself in the middle of unusual cases and causes. But that doesn't stop him from trying. Believing that Cookie is the victim of a spine surgeon with a sloppy touch, Tug takes her case. But as he seeks both medical remedy and a fair shake for Cookie, he realizes—a tad too late—that sinister sights are now trained on him. In Cookie's Case, this offbeat lawyer will go farther than he ever has for justice.
REVIEWS
"The author of this suspenseful, witty character named Tug Wyler . . . is a man who really knows his subject inside and out, producing another tale that's a real gem. [Siegel] has an incredibly dry sense of humor and delivers perfectly timed wit to the suspenseful prose."
—SUSPENSE MAGAZINE
"The writing is addictive with pages flying. This short concise novel is wonderfully written and a great insightful glimpse into the legal community."
—MID WEST BOOK REVIEW
Post by: Manda Goldberg