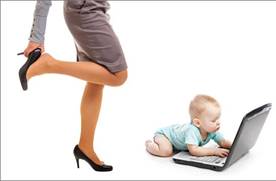 In honor of Mother's Day 2015 (ahem, it's coming up), we wanted to take a minute to acknowledge the fact that moms are some of the best leaders around. They've been in charge of multi-faceted operations as long as humans have roamed the earth: making sure the family all gets along, keeping folks on budget, establishing and maintaining protocols, staying on call 24/7, etc.
When you think about it, it's no surprise that your momma might have picked up a tip or two on leadership while juggling all this responsibility. Perhaps this fact finally answers Maybelline's eternal question: Is she born with it? Well, we think she got it from her momma.
Perhaps mom's leadership lessons are the reason that women make such effective CEOs?
Mintigo, a data-driven predictive marketing firm, recently released a study which indicated that although only 17% of CEOs are women, in companies of over 1,000 employees female CEOs were able to achieve up to 18% higher revenue than their male counterparts.
We think that's awesome, and as an ode to the leadership qualities mothers around the world exude, we've asked 7 top female business leaders to chime in and share the best lesson their mothers taught them.
7 Leadership Lessons We Learned From Mom
Maureen Kline, Director of Public Affairs & Sustainability for Pirelli Tire North America
I am pretty sure I grew up with the most precise, ethics-focused mother around. As a result it wasn't the most relaxing household; you had to think carefully about the consequences of every action, however small. This forward-looking strategic thinking has served me well: it's ok to make mistakes and to learn from them, but never take shortcuts when it comes to ethics.
Suneera Madhani, CEO / Founder of fattmerchant
My mother has always taught me to be generous and giving, and to always appreciate and respect others first – from customers, to employees, to investors. She has taught me to stay humble in my journey, but to always persevere for nothing shy of excellence. She taught me to take risk, and to be confident in who I am as an individual, a leader, and most importantly as a woman who will always take a seat at the table.
Julie Sygiel, Founder and Chief Creative Officer of Dear Kate
Be fair to people and act with integrity. My mother was an attorney and judge, and as I grew up watching her make tough decisions, she never compromised her morals. She was fair to everyone, treating them with respect, even when some might say they didn't deserve it. I believe what goes around comes around and people do take notice of your actions even if they don't say anything. 
Dr. Sunanda Chugh, Owner of Anand Medical Spa
My mother who is very spiritual has always taught me to be patient with and kind to everyone I meet.  In my business, I have practiced this in many ways including how I interact with my patients.  I spend a lot of time with my patients, and I do my best to be compassionate and understanding with them and their needs.   I have found that this not only fosters trust, but it also helps people feel better when they walk out of my office, no matter what their initial concern was when they walked in.  
Jaime Teich, Account Supervisor at Trepoint
My mother always taught me that "an ex is an ex for a reason". Whenever the fantasy would replay of the good times and why I would want them back, to face that by honing in on the reason as to why the break up was necessary in the first place. In business this is relevant as the notion of trusting ones instincts is a very real part of the day to day and without that internal guidance and wherewithal we would all go back to that ex which ultimately would enable us from progressing. 
Christina Bognet, Co-founder of PlateJoy
My mom is very smart, she has a PhD and encouraged me to love learning from a young age. But building a business is more about perseverance than intelligence, and my ability to endure has been rooted in finding humor in stressful situations and being able to make other people laugh. No one laughs or finds comedy in everyday life more than my mom; she has instilled in me a deep sense of humor and thus a deep ability to persevere. 
Wendie Wilson, President of Gifted Journeys
There are three important lessons that I learned from my mom that I've taken with me into my business that I feel greatly contributed to my success (although I doubt she would take any credit whatsoever!):
Don't burn bridges. To this day I've never known her to hold a grudge or bring up water under the bridge.  She is gracious in both forgiveness and letting things go.  
Don't be late.  It's important to respect other people's time.
Do your job well.  If you don't complete a job well, other people will notice and that will be the reputation you have in the professional world.