Many factors go into having a successful outdoor space. A few of these include climate, style of home, and the desired use for the space. Whether you want to have an outdoor living room or simply enjoy your patio on warm evenings, there are some things you can do to make it work better for you. Read on for some useful tips to help improve your outdoor space.
Keep your space organized
One of the primary things that you can do to make your outdoor space more functional is to keep it organized. This means having designated areas for different activities, such as dining, relaxing, and playing. Not only will this make the area more visually appealing, but it will also be more efficient to use. This also means having a dedicated place to keep away all of your belongings. In this case, you may even need to get a backyard storage shed. In doing so, you will have the right space to keep everything in. In the same manner, if you have a lot of items that you want to store outdoors, consider investing in a storage container. This will help keep your space looking neat at all times.
Designate zones
When creating an outdoor living space, it is important to create different zones for different activities. This way, you can use the space in the most efficient way possible. For example, if you want to have a seating area and a dining area, put them next to each other. This will allow you to entertain guests with ease. A designated area for an outdoor kitchen is also a good addition to your outdoor space.
Additionally, it is important to consider the flow of traffic when designing your outdoor space. Make sure that there are no areas where people will be walking into or tripping over furniture. This way, you can ensure that everyone will be able to enjoy the space safely.
To add some zones, what you can do is to create different levels. This can be done by adding a raised deck or patio or even using stairs to lead to different areas of the yard. Another way to create zones is by using plants and trees. For example, you can have a section of the yard that is completely shaded by trees, while another area gets full sun.
Add some color
One of the easiest ways to make your outdoor space more inviting is to add some color. This could be in the form of flowers, plants, or even furniture. By adding pops of color, you will create a cheerful atmosphere that will make spending time outdoors more enjoyable. Additionally, you can use color to create different zones in your yard. For example, if you have a seating area near the house, you could add some brightly colored cushions or pillows to make it stand out.
Pay attention to the climate
When designing your outdoor space, it is important to take into account the climate of your area. This means considering things like the amount of sunlight and shade that is available, as well as the wind patterns. If you live in a hot climate, it is best to choose materials that will help cool down the area, such as wood or concrete. In most cases, it is best to avoid grass and plants that need a lot of water in this type of weather. On the other hand, if you live somewhere with cold winters and hot summers, choose hardy materials like stone and brick rather than softer ones like wood or plastic.
Select the right furniture
Another important thing to consider when styling your outdoor space is the furniture you select. You want to make sure that it is durable enough to withstand the elements, but also stylish enough to match the look of your home. In addition, you should consider the size of the space and how much furniture you will need. It is better to have too much than not enough, as this will give you more flexibility when it comes to using the space. This way, you will be able to have a variety of seating options for everyone to use, as well as other fun pieces.
Create shade
If you live in an area that gets a lot of sunlight, it's important to create some shade for yourself. This can be done with trees, umbrellas, or a pergola. Not only will this help keep you cool on hot days, but it will also provide you with some privacy when you are in the yard. This can be especially important if your home is close to a busy road or another area where people will pass by on foot or bike.
Along with some shade, you may also want to consider adding some lighting to your outdoor space. This will help you keep it well-lit when the sun starts setting, but also add some ambiance at night. You can do this by adding patio lights or even stringing up some fairy lights on trees and plants. Otherwise, you can also think about adding a water feature, like a pond or fountain.
Keep the right plants around you
One last thing to think about is what types of plants and flowers will be placed in your outdoor space. In this case, it helps to know where the sun shines at different times throughout the day so that you can determine where to place them. Additionally, you should try to select plants that don't require a lot of maintenance and will be able to survive in the climate where you live. This way, you won't have to spend a lot of time watering or fertilizing them, and they will still look beautiful all year round.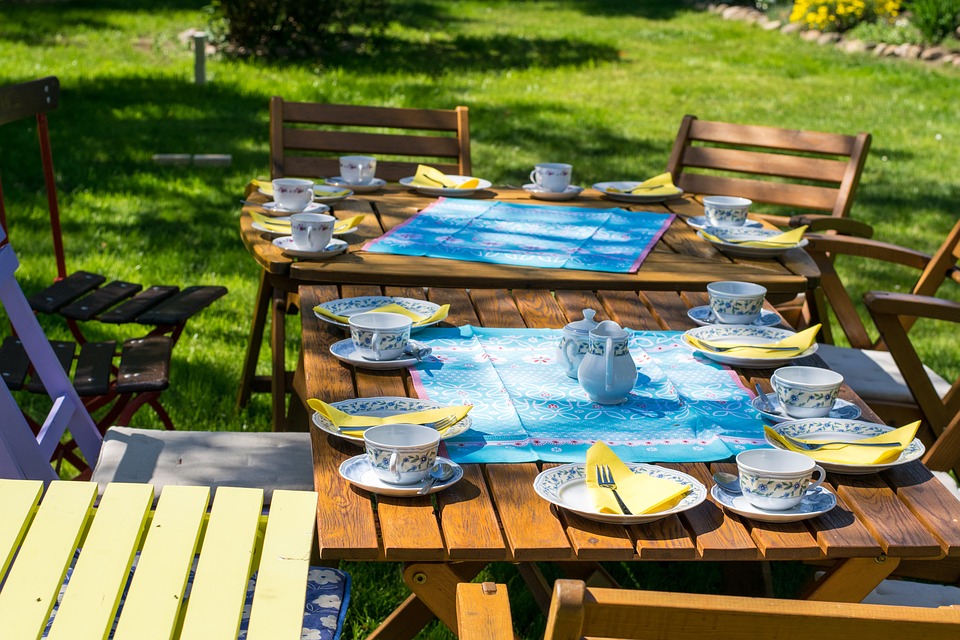 In conclusion, there are a lot of different things that you can do to improve your outdoor space. By following these tips, you can create an outdoor space that is both stylish and functional. Not only will this make it more fun and inviting, but it will also help give your home some extra curb appeal as well. Rest assured that by following these tips, you will be able to create a backyard that is both functional and beautiful. Additionally, it will also add value to your home. So, what are you waiting for? Start designing today!