Having a beautiful home is essential to many people. It's not just being able to say that you have a nice place to live, but also being able to enjoy your time at home. This enjoyment of the house is increased by having an outdoor space that can be used frequently. Sitting in the garden, patio, or even a terrace enjoying the scenery provides you with relaxation, entertainment, and fresh air. While sometimes it can seem daunting to decorate and improve your outdoor space, it's really not that difficult and there are 6 tips that can help.
1. Create Shade
Warm and sunny weather is perfect for spending time outdoors. However, if you live somewhere where it gets really hot, spending too much time in the sun can feel more like torture than relaxation. An awning or pergola can provide enough shade to fully enjoy the warm weather on the hottest days. Take a look at your outdoor space and decide where you would like the shade to be the most. It should be a place where you feel comfortable sitting down enjoying a book, or hosting an outdoor party. Once you have that pinned down, it's time to look at an awning size guide to ensure you get just the right one for the designated space. You want it to cover enough area so that you can comfortably fit at least a few people, while not being too big that it obstructs the space. Think about what furniture you'll want to place in your outdoor space, and just how big they are. You don't want a pergola or awning that doesn't provide shade for them.
2. A Nice Driveway
Your driveway is the first thing most people see when coming to your house. It's the first thing they see when pulling up, and it can make or break how they feel about your home. If your driveway is cracked, dirty, or just needs some extra care, looking at ways to fix it would be a good idea. It can be as simple as doing a pressure wash to get off all the dirt and grime that has accumulated over time, followed by a new coat of paint. It can also be more complicated than that if there are cracks in the concrete. You can go as simple or as complex as you like when looking at improving your driveway. Install some lights along the way to provide some more aesthetic and functional value, or add some potted plants all along the driveway leading up to your house. These plants can give off a nice smell, and some of them even offer soil stabilization on top of aesthetic improvements.
3. Furniture For Relaxation
In order to fully enjoy your outdoor space, you'll need furniture that is both comfortable and fits the design of the space. Wooden chairs with a wicker seat look great in most gardens, as do benches with a rustic feel. There are many options when it comes to patio furniture, so consider what kind of seating arrangements you want and whether or not it fits your design and needs. Just like the inside of your home, it's a good idea to zone out your outdoor space for different activities. In some places, a dining table is a good idea, but in other places, a coffee table and a few deck chairs would be more appropriate. Create a conversation area for when you have guests over or space to take in the sun if it's not too chilly outside. Add some pillows and throw blankets, and you're ready for a nice day of relaxing in your backyard.
4. Plan And Maintain Your Plants
Nothing makes an outdoor space more beautiful than having a variety of plants placed around the area. There are so many different types, styles, and colors of blooming flowers that you will never get tired of changing things up to keep your garden fresh. As soon as you are finished planting, there are maintenance tasks that must be done in order to keep them healthy. Make sure your unwanted weeds are pulled, the soil is watered correctly, and all of the plants get enough sunlight during the day. You can even get more elaborate with your landscaping and create an arched trellis tunnel entrance to give your yard that picture-perfect garden feeling. Sometimes it can take a little bit of experimentation to find out exactly where each plant should go, but once you do, you'll have one beautiful outdoor space that everyone will love visiting whether they're just stopping by or having an outdoor party.
5. Walkways
Just like any other part of your property, walkways offer more than just a way to get from one place to another. When installed correctly and given enough attention when necessary, they can be a very beautiful addition to any home. There are a lot of materials to choose from when it comes to walkways, and the choice is up to you since they are your property. The most common materials include stones or bricks, but you can also get creative with other things like crushed glass or pebbles that look nice set into concrete. You can also add visual interest by creating intricate patterns with your walkway. If you have a driveway, you can even add a matching walkway leading up to the front door of your home to give it that seamless look.
6. Lighting
There are many different kinds of outdoor lighting options that can be used to turn your space into a magical oasis at night. Whether you want to add an elegant atmosphere or make the place party-ready, there is something for every occasion. You can use old-school candlelight wrapped around wireframes, get small lights in the shape of lanterns, or even install track lights in order to really light up your backyard. Solar lights can be placed on the ground or hung from trees to create a nice ambient glow, and if you have a deck, adding some candle lanterns will keep the area lit up while also creating a festive look. When installing different lights, remember that you want to put focus on your garden, deck, or any other part of your property that you want to highlight. There are also motion-activated lights that will turn on whenever someone walks by giving the area an added feeling of safety at night. No matter what kind of outdoor space you have, lighting is one way to really make it shine!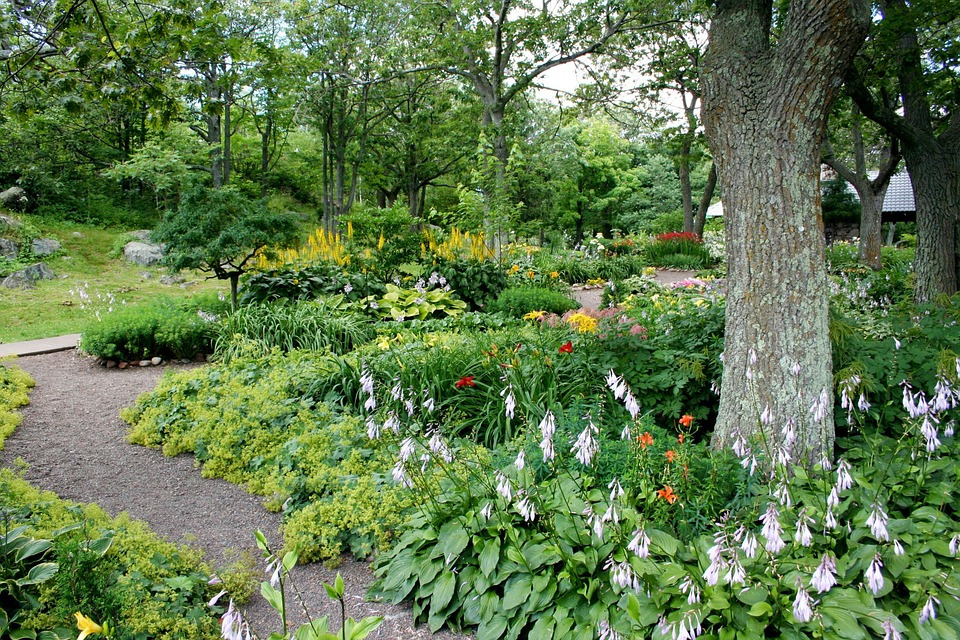 Having a nice outdoor space to enjoy at home can make you feel like you're on vacation all the time. And, there are many different ways that you can improve your backyard or garden to give it that perfect look. Whether it's adding some pillows and comfy chairs to your patio, building an elaborate trellis along the side of your house, or hanging some twinkling lights around the perimeter of your deck, there are many different options that can be combined in order to create a space that you'll never want to leave.