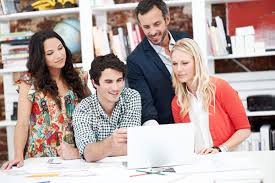 The Greatest Generation and the Baby Boomers are two of the most influential age groups in the history of the United States and have left incredible footprints on our society. However, it's the millennials who now comprise the largest living generation with over 75 million people. But with limited job prospects, staggering college loans and tougher career paths, finding the trail to success has been tougher than in the past.
But, Nicole Smartt found a way – the old fashioned way by starting at the bottom and working her way to the top, becoming the Co-owner and Vice President of Star Staffing.  In her book From Receptionist to Boss: Real-life Advice for Getting Ahead at Work," Smartt details the steps she took from achieving that goal in less than 7 years en route to becoming the youngest person to be awarded the "Forty Under 40" award by the North Bay Business Journal.
Smartt says, "One of the biggest things younger workers can do to get ahead is be an exemplary leader, take on extra tasks and ask what more you can do?" She'll share with your viewers 3 ways millennials can climb the career ladder:
Be a winner at working hard. Never clock out. Constantly learn, grow and improve.
It's all about connections. Become an owner of your career through connections. Find the right people/mentors who match your goals, attitude and energy level.
Be a lifetime learner. Learning doesn't end when you graduate – stay ahead of the curve.
About Nicole Smartt
Nicole Smartt, author of "From Receptionist to Boss: Real-Life Advice for Getting Ahead At Work" (www.nicolesmartt.com) is co-owner and vice president of Star Staffing in Petaluma, Calif. She also is co-founder of the Petaluma Young Professionals Network and was the youngest recipient of the "Forty Under 40" award given by the North Bay Business Journal.