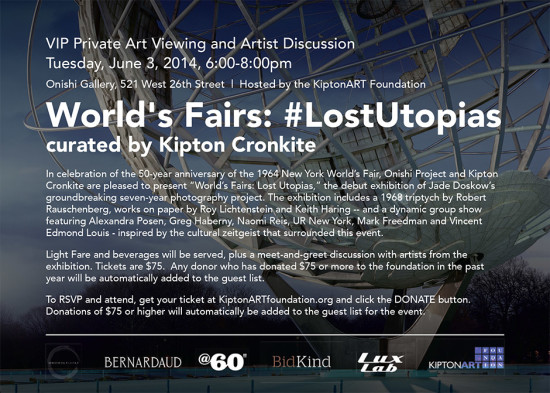 In celebration of the 50-year anniversary of the 1964 New York World's Fair, Onishi Project and Kipton Cronkite are pleased to present "World's Fairs: Lost Utopias," the debut exhibition of Jade Doskow's groundbreaking seven-year photography project. The exhibition includes a 1968 triptych by Robert Rauschenberg, works on paper by Roy Lichtenstein and Keith Haring — and a dynamic group show featuring Alexandra Posen, Greg Haberny, Naomi Reis, UR New York, Mark Freedman and Vincent Edmond Louis – inspired by the cultural zeitgeist that surrounded this event
.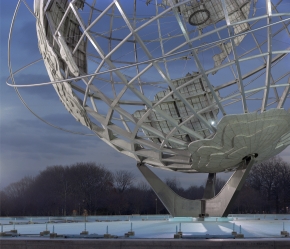 Tuesday, June 3, 2014, 6:00-8:00pm
Onishi Gallery, 521 West 26th Street
Hosted by the KiptonART Foundation
Sneak Peak Video
To RSVP and attend, get your ticket at KiptonARTfoundation.org and click the DONATE button above. Donations of $75 or higher will automatically be added to the guest list for the event. Light Fare and beverages will be served, plus a meet-and-greet discussion with artists from the exhibition. Tickets are $75. Any donor who has donated $75 or more to the foundation in the past year will be automatically added to the guest list.