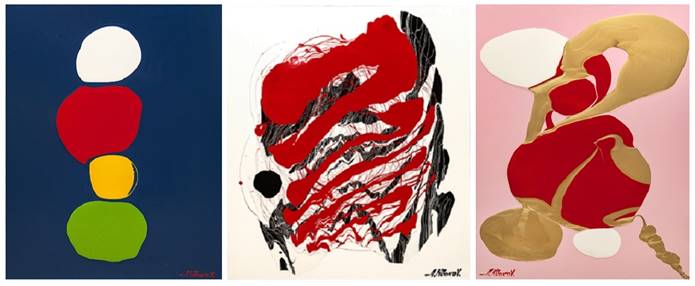 Alexey Klokov, an internationally recognized artist with 25 years of professional experience, will exhibit his Collection of Suggestive Abstract & Abstract Moderne paintings at ArtExpo New York 2017, the world's largest fine art trade show. The exhibition will take place at ArtExpo's Booth S205, open daily from April 21st – 24th, 2017 atPier 94.
Klokov's paintings are widely represented in private and corporate collections all over the world, and has exhibited in Russia, Austria, Japan, the UK, USA and Canada. Some of the notable and celebrity collectors include: Silvio Berlusconi, Hillary Clinton, the family of Emir of Qatar, Tony Blair, Condoleezza Rice, Madeleine Albright, Boris Johnson, Quentin Tarantino, Emir Kusturica, Patrick Swayze, Paco Rabanne, and Marwan Chatila.
Klokov's art seeks to balance between abstraction and figurative. His art is called "Dialectics In Color" where, searching for the dialectical unity, he conciliates opposites in their colorful and metaphysical harmony. Applying his skills as a former art restorer, Klokov efficiently uses his techniques to his gold paintings, antique objects, rarity printings and coins.
Artexpo New York is a premier fine art destination for thousands of art industry insiders in search of the art and artists that will shape trends in galleries worldwide. Hosting more than 25,000 avid art enthusiasts annually, Artexo is the largest international gathering of qualified trade buyers—including gallery owners and managers, art dealers, interior designers, architects, corporate art buyers and art & framing retailers. This year, Artexpo will host over 400 innovative exhibiting artists, galleries and publishers from across the globe, showcasing exciting original artwork, prints, paintings, drawings, sculpture, photography, ceramics, giclee, lithographs, glass works and more—all under one roof at Pier 94.
WHEN: Friday, April 21 12:00 PM – 8:00 PM
Saturday, April 22 11:00 AM – 7:00 PM
Sunday, April 23 11:00 AM – 7:00 PM
Monday, April 24 10:00 AM – 3:00 PM
WHERE: Artexpo New York, Booth S205
711 12th Ave, Pier 94
New York, New York 10019
ABOUT ALEXEY KLOKOV
Alexey Klokov, a second generation artist, was born in 1965 in Russia. The impetus to navigate his own way in the world of art was attributable to his first teacher – the famous avant-garde artist of 20th century Anatoly Zverev. Certified in 1991 as an artist and art restorer by the Saint Petersburg Higher School of Art and Industry, Alexey worked in the restoration workshops of the Hermitage (Saint Petersburg) and Tretyakov Gallery (Moscow). As he was literally "in touch" with the masterpieces of the world's great artists including Van Gogh, Matisse, Picasso and others, Alexey created the opportunity to learn from them "without words". In 1994 Alexey Klokov took residence in a monastery devoting himself to icon-painting. There he explored the secrets of gilding and the great power of symbolism embodied in the image. After four years of consistent work he achieved the confidence to embark on his own artistic career.
The theme of his first exhibition in 1998 in Moscow was an expression of his monastery experience. His special guest of honor, designer Paco Rabanne, deeply connected with the spirituality of Alexey's artworks and purchased the first two pieces for his collection. Since then the artist's paintings have been widely exhibited throughout Russia and abroad including the USA, Japan, the UK and Austria. The arrival of his exclusive agent and wife Naira Velumyan to Canada has introduced North American audience to his new collection of enamel on linen paintings named "Suggestive Abstract". The art embodies an uniqueness that is simultaneously suggestive and subliminal, and reveals many shapes and forms of meaning, which is subject to a personal interpretation.
For more information about Alexey Klokov, visit: www.alexklokov.com
For Alexey Klokov paintings, please visit: http://bit.ly/2pPzB9D
To watch his exhibition in Toronto: https://youtu.be/EgFFULocFdc
To watch his documentary: https://youtu.be/MugeuD2C_j8
Facebook: alexeyklokovart |Twitter: @alexeyklokovart