Part of what makes summering in the Hamptons fantastic, are the number of different workout you can do. The combination of its proximity to NYC and natural beauty lends it self to extraordinary workouts.  Lets face it, there are only so many calories you can burn dancing the night away. This list includes some of my favorite and a few I am anxious to try.
SoulCyCle with current locations in Bridgehampton, East Hampton, and Water Mill, SoulCycle, the full-body indoor cycling studio, is set to expand its Hamptons reach even further this summer with the addition of a fourth East End studio in Montauk.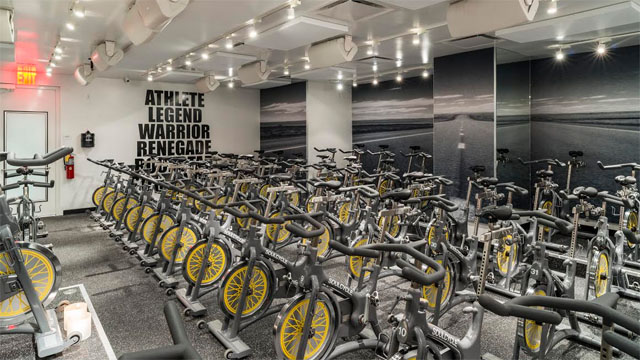 For its newest location, Soulcycle has transformed the historic old Montauk movie theatre into a 67-bike studio, complete with a SoulCycle lifestyle boutique featuring SoulCycle's original clothing line. For a caffeine boost, cyclers can enjoy the SoulCycle debut of fair trade cold brew coffee from Red Thread Good. Crafted in New York, the female-owned company donates 2 cents for every serving to organizations devoted to providing healthy, nutrient-rich food to people in need.
Classes at SoulCycle Montauk are $40 per class.
Fly Wheel– With locations both in Sag Harbor and East Hampton. this 45 minute ride gets your heart pumping like no other . Its spinning at its finest. The instructors,music and atmosphere rock. The Flywheel indoor cycling ride includes climbs and descents, while working arms with weighted bars. It's an amazing escape that challenges your body and relaxes your mind.
Intensati- One of my absolute favorites. A mix of martial arts, yoga, aerobics, kickboxing, ,and dance.
IntenSati is the practice of remembering that if you want to live a life you love in a body you love, you must start loving it now! Take Natalia's class at B East!
Paddle Diva– Every morning a group of mostly women seem to float effortlessly by me on paddle boards. They are rowing, talking an smiling. All while working their core and arm strength. They look they are having a ton of fun. SUP is a great way to spend time with a girlfriend, do a sport and chat the time away. If you get hot, jump in! The boards are very easy to maneuver so you can all go along as a group and enjoy the scenery, the conversation and the amazing work-out!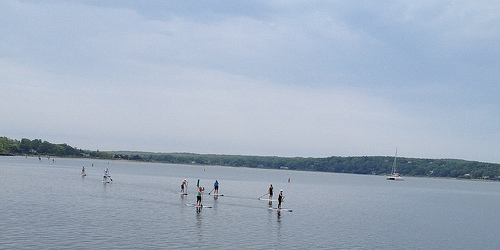 "There is something about the TRX straps, the truly gifted instructors and the class camaraderie that makes it all doable. TRX is challenging and sometimes even a little silly. I am even seeing results. Atomic push-ups all around!
Tracy Anderson– Gwyneth, Molly and Madonna swear by her and you will too.
Exhale– Always imitated.  Never duplicated . Elisabeth Halfpapp and Fred Devito  have been lengthening and strengthening their clients for over 20 years.
A toned  seat, abdomen  thighs and arms is what you will achieve. You will have balanced strength in your legs and back Your  posture will improve to produce a beautiful, sexy body. All of this while remaining injury-free due to the latest in exercise science.
It will be tough, you will curse, you will sweat, but the time will fly by with dance-like movements to motivating rhythms, and those oh so sexy movements. Bottom line Exhale kicks you butt !!!!
Mandala Yoga– Yoga studios come and go, but not Mandala. Walk into Mandala and you will be saying OM  before you know it.  Sweaty, peaceful, challenging, without any pressure or pretense. You don't always know what you will get. The schedule indicates a rigorous flow class, and you get an Iyengar-esque concentrated movement class.  BUT, lovely teachers, near-perfect studio and a wonderful overall feel.
AKT inMotion
Anna Kaiser, founder of AKT inMotion and trainer to stars like Sarah Jessica Parker and Shakira, focuses on designing classes that evolve week by week. "The only way to sustain true fitness is to feel like you're growing, achieving, and moving toward something bigger," she says. Hamptons Gym Corp, 395 County Road 39A , Southampton, 283-4770; 1 Bay St., Sag Harbor, 725-0707
Kim K loves it and so does Katie Couric.  Okay maybe those are reasons not to go. The rumor is you will burn 1000 calories. Called Hollywood best kept secret has been training. Come find out why Barry's Bootcamp has been voted "The Best Celebrity Workout" by ALLURE, LOS ANGELES MAGAZINE and many others. You will burn 1000 calories in one hour and, most importantly, see and feel results right away!
Barry's Bootcamp, with two Hamptons locations features hour-long classes taught by some of its top trainers. Dubbed "Barry's Surf Shack" by partner Joey Gonzalez, the new location will incorporate the casual, somewhat nautical feel of its locale. 199 Main St., Amagansett; 352 Montauk Hwy., Wainscott, 537-2668
Elements Fitness Studio
This new boutique fitness destination specializes in small group sessions and private training classes, such as Barre Fitness, Cardio Sculpt, cardio boxing, and Circuits. Also on tap are customized pre-/postnatal barre classes, corporate wellness, and bridal boot camps. 66 Newtown Lane, Ste. 11, East Hampton, 917-589-7319
Erika Bloom Pilates Plus
One of the most sought-after instructors on the East End, Erika Bloom and her team of trainers focus on a holistic body-and-mind approach. This season her highdesign studio launches an exclusive collaboration with LuliTonix, the NYC-based juice company lauded for its raw green blends and elixirs. 66 Newtown Lane, East Hampton, 212-288-3410
KamaDeva Yoga
This season, KamaDeva Yoga introduces Foundation Training with Adam Kelinson as well as a seven-day juice cleanse program. Along with yoga classes in the Jivamukti, Ashtanga, and Iyengar styles, the yoga mecca has added a schedule of prenatal classes. 15 Lumber Lane, No. 2A, East Hampton, 604-1382
Bradford Method, East Hampton NEW!
Sculpting, toning, and sweating are the three main activities of the Upper West Side studio and its Hamptons satellite. The tricked-out Pilates studio offers small group 75-minute Garuda classes (featuring a muscle-isolating reformer-style machine, Bands+Box, and Cardio Jump Board), 45-minute Trampoline classes, and private training. 58 Gingerbread Ln., East Hampton, 631-213-9413, www.bradfordmethod.com
Physique 57
Physique Cardio comes to the Hamptons on Memorial Day weekend. The 57-minute class emphasizes raising the heart rate and strengthening muscles in a series of planks, push-ups, and lunges. 264 Butter Lane, Bridgehampton, 537-5722
SLT
A favorite of body-conscious movie stars and beach buffs, the 50-minute SLT Megaformer workout, new to the Hamptons, combines elements from Pilates, cardio, and strength-training workouts. 50 Station Road, Water Mill, 646-588-9490
Exceed- East Hampton: Visit Exceed's Hamptons outpost known as "The Shed" for their infamous HIIT classes. Bring on the kettle bells and burpees.
KP Dance Body: Dance it out in this high energy class that's a mix of cardio dance and sculpting exercises. It's perfect for dancers and non-dancers alike.
Uptown Pilates- Sag Harbor: Strengthen your core and get your pilates on at Uptown Pilates' Sag Harbor location.
Minardi Training– Jimmy Minardi 's boot camp on the beach is not for the faint of heart.  Jump hurdles, run the dunes and much, much more.   His regimen of Surfer Yoga, Beach Workouts, Vinyassa Weight Training and outdoor Cycling classes get radical results for athletes at every level. When you're ready to look and feel better than you ever have – you're ready for Minardi Training.   Minardi's  skilled, hands on, full of tough love and he's intuitive as to what is going to get his client the best fitness results.
Walk the beach–
Don't just sit there. Get off your chair and walk.The soft sand besides being a treat for the senses, this simple pleasure is actually a very healthy option that adds to the attractions of a beach holiday and can help make up for some of the tempting excesses of local food. To begin with, walking – whether on the sand or elsewhere – can improve blood circulation.
There are beauty benefits, too, as the friction of the sand is a marvellous natural exfoliant. Walking barefoot will result in softer feet in no time.
There's another benefit to seawater, too, as it contains minerals (iodine and sodium) that help prevent ageing – not to mention the fact that it's relaxing!
Wet or dry sand? Obviously, if you're right down at the water's edge, you'll be walking on wet sand. This is actually easier and takes less effort. But as you get fitter and start to notice the benefits of the water, you may want to extend your walks farther up the beach where the sand is dryer. Since dry sand is less stable and the shape shifts as you walk, it involves more effort.
Golf–
The Eastern End of Long Island offers tons of great golf courses
With its gently rolling hills and sprawling, flat landscapes, Long Island is a great place to play golf. The scenic courses on the East End offer world-class fairways, rolling meadows, wooded acres and water views.
There are many challenging courses available to the public including, Montauk Downs, Sag Harbor State Park, Calverton Links, Indian Island Country Club, Great Rock Golf Course, The Links at Cherry Creek, Long Island National Golf Club, The Woods at Cherry Creek and Shelter Island Country Club.
Golfers of all abilities will find a course that will create a spectacular setting for their favorite pastime.
Why not improve your game taking a clinic with Lisa Jones at East Hampton Indoor Tennis .  Stroke , Move , plus Weekend and Weekday Tennis Mini-Camps will help you bring your A Game to the court plus you will have fun and get a great workout at the same time.   It's a win win.
Or you can always climb the 137 steps at the Montauk Light House!