Will you be mine? Here are some unique Valentine's Finds!
Donna Monaco Olsen, co-coordinator for the Taste of Westchester Continuing Education program here to share some Valentine treats for your loved ones.
GOLD DIPPED ROSES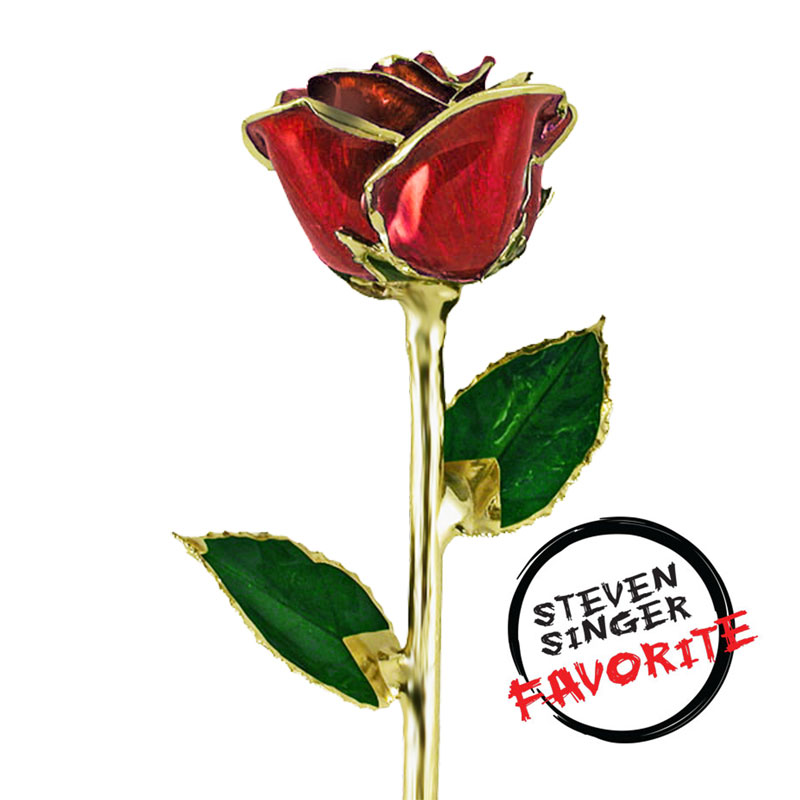 Make romance blossom! This first find is as close to my heart as it gets! My Dad heard about "gold dipped roses" on a radio ad and ordered it online for my mom, his sweetheart of over 60 years. When it arrived on the doorstep last week she was caught by surprise. An early Valentine's present as he winked with a smile. The perfect symbol of love that will last forever, just like their love. It is a real rose picked at the height of its beauty, preserved, and trimmed in 24karat pure gold. It came delivered in a gold gift box with his own personalized message, professing his endearing love. Did I mention they were twelve when they met and have been married over 55 years? Although the website has a funny tag line the sentiment is beautiful, representing everlasting love. The humorous reason for "I Hate Steven Singer" is that after receiving one of these special roses, a couple had some fun in the bedroom and nine months later… you can guess the rest of the story.
http://www.ihatestevensinger.com/gold-dipped-roses/
ART CLASS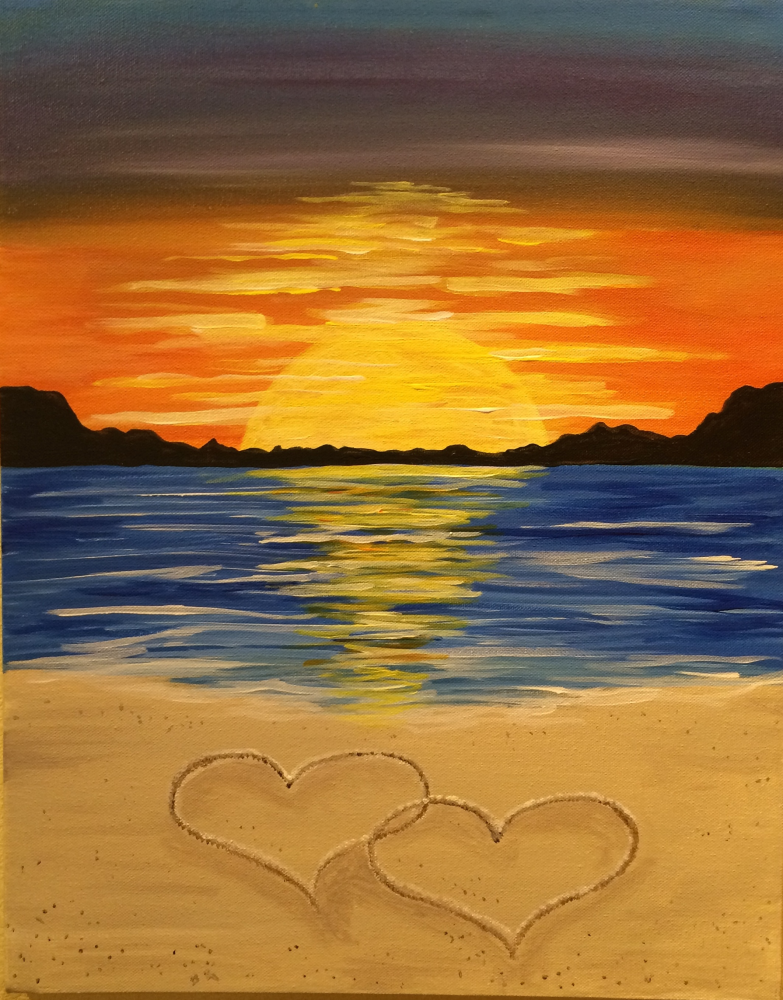 Tired of looking at each other with blueish lit faces over dinner? Are you wishing to disconnect to reconnect with your special Valentine this year? Maybe getting in touch with your inner artist will make romance come alive. Reconnect with your "significant other" by putting down the mobile devices. Just like two halves of a heart making a whole, Pinot's Palette has come up with a great date night. They are hosting a class that puts two canvasses together to make one larger painting. This canvass is entitled "Romance on the Beach" and there is nothing more beautiful than being on the beach at sunset to bring out the romance in all of us. There are several dates and Valentine themed lessons to choose from at each location. Sign-up for an event online at any of three local locations: Stamford, Norwalk, and Mamaroneck. Their motto is always, "Paint. Drink…Have Love!"
https://www.pinotspalette.com/mamaroneck/valentines-day
DRUNKEN MARSHMALLOWS
Sure to evoke a smile from a friend or loved one this Valentine's Day are treats from our local sweet crafter, Sherry b. Her sweet shoppe is in Hillary's neck of the woods, Chappaqua. You will love the décor and feel like you are in NYC at Sherry b Dessert Studio. I adore the "tin" ceiling made of muffin pans! Sherry b has recently developed "tipsy" marshmallows. She professes that it is more like mad science and art than baking when she comes up with her newest creations. Pictured here are the special flavor created just for our heartfelt holiday, Chambord (raspberry) with pink and diamond sparkling sugar. Try them with hot chocolate while you sit by the fire. They can be ordered online for shipping or pop into the store and check out her other treats. She specializes in amazing stuffed brownies – Vietnamese Coffee is my favorite. New to her line up are ice cream cake sandwiches featuring outrageous flavors. A must try is the Fluffernutter – peanut butter and marshmallow ice cream sandwiched between sliced banana bread.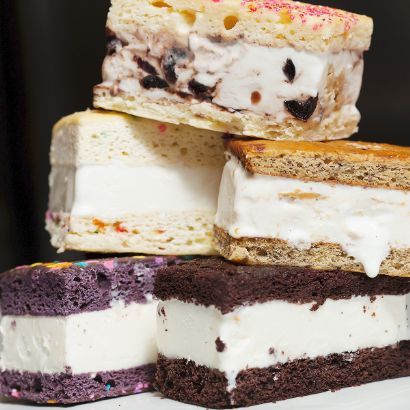 https://sherryb.goldbely.com/19073-chambord-tipsy-marshmallows
PROPOSAL IDEA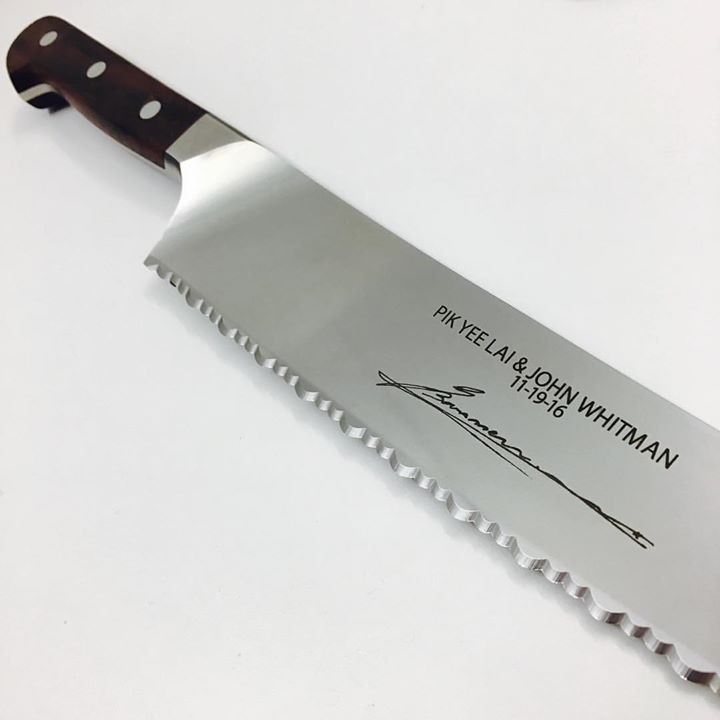 For those who are looking to propose to their favorite "foodie" on the most romantic day of the year, you can book the most fabulous cooking space in Westchester to get down on one knee. At the Zwilling Cooking Studio in Pleasantville they will coordinate a cooking class made for two. You and your betrothed can participate in a hands-on cooking class specially designed for your tastes and skills. The beautifully equipped kitchen comes with a private chef, Bernard Janssen. He will show you how to incorporate knife skills and help you through making the entire meal. You can set the menu and plot how to incorporate your proposal into the evening. A recent participant put the diamond ring into the salt box – wonder if it was Diamond brand salt? He had his loved one add a pinch more to the dish they were preparing – Surprise! They dined on the meal they prepared by candlelight and there was truly romance in the air. Henckel presented them with a knife to commemorate the occasion as a utilitarian keepsake. The studio also offers other cooking classes throughout the year. A great "date night" class that is now being offered is the French Bistro. Whisk away to Paris without leaving Westchester by focusing on bistro cooking, the less fussy cousin to haute cuisine. This iconic style incorporates French techniques into every day, home-style dishes. Everyone can be a French chef with a classic bistro menu that is simple and chic. Bon Appetit!
http://www.zwillingcookingstudio.com/
CHEF DEMO AND 3 COURSE TASTING
Looking for a different night out? Another great cooking class program is offered through the Continuing Education of WCC. Join other foodies as they learn from the best chefs in Westchester. Voted 2016 Best of Westchester for "Best Foodie Night Out," this cooking program offers over 100 different demonstrations a year held in local restaurants. Here is the current schedule for some great classes from our local chefs offering you and a loved one a chance to experience a great meal. They take place in their restaurants so you can learn from the best and taste what they have to offer. Fly solo or treat yourself and a friend, spouse, or relative to a "tasteful" Valentine's gift for someone you love!
http://www.sunywcc.edu/continuing-ed/lifelonglearning/career-prep-certificate-program/a-taste-of-westchester/
BOUDOIR PHOTOGRAPHY
Ooh la la! Many of you think intimate gift giving on Valentine's Day, right? So how would you dream of being photographed in the best light? This is something truly special being offered by one of the most talented local photographers, Margaret Rizzuto. She specializes in boudoir photography and has a well-equipped local studio. She is very comfortable behind the camera and is sweet and soft-spoken. She knows how to make you comfortable. She will pose you in the most flattering, candid ways bringing out your essence, the parts of you that you might hide from the world and even yourself. Many are surprised at how comfortable they become during their shoot. They will utilize a private online Styling Board to start putting together the overall "mood" of your shoot by sharing outfit ideas, makeup looks and poses as they begin to hone in on your personal style. This is the perfect time to show your love with a gift that will leave them wide-eyed! They will remember all the wonderful ways they fell in love with you. This is not only a gift for your beloved, it's a gift for you too! At the studio they pamper you utilizing a professional makeup artist and props to highlight you at your best. This is for everyone – and every body! Many different options are available and they are running a special Valentine's package. You will be so glad you did it and so will your Valentine (wink, wink)!
http://www.margaretrizzutophotography.net/
SENDING KISSES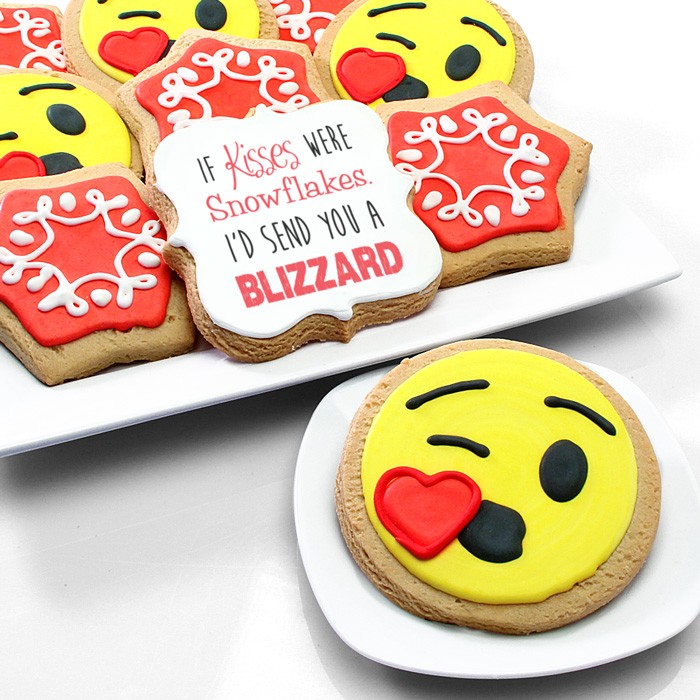 Living in our times we do not always profess our love verbally. Modern times have us texting our kisses with emojis of smiling faces blowing hearts these days. Corso's Cookies lets you send them in edible form. We love that this company is NY based and woman owned. Tina being a smart cookie, decided to open up a small hand-decorated cookie company. What makes these cookies so good is the passion and detail that goes into hand-decorating each cookie. The buttery shortbread cookies are baked fresh every day then hand-decorated by one of their icing artists. As they profess, they add a little extra love to every cookie, making each gift extra special, therefore perfect for Valentine's Day. The cookies are individually wrapped and protected to prevent damage to the work of art that has been created on it. From experience, they taste as good as they look. This makes a great gift for your college kids far away on this special day!
https://www.corsoscookies.com/catalogsearch/result/index/?cat=3&q=emoji
ORGANIC CHOCOLATES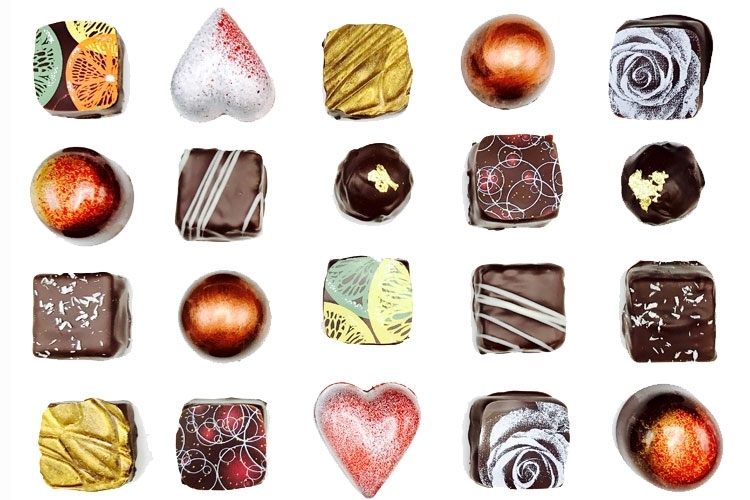 So many of us associate Valentine's Day with chocolate. Here is a special treat for your "Cuckoo for Chocolate" loved one. A very special offering by three star Michelin chef, Jean-Georges Vongerichten. He is offering a limited edition chocolate treat. These sweets are 100% organic, handmade and free of preservatives and artificial flavorings. The 20 piece chocolate box contains 10 custom flavors including kirsch, passion fruit and white chocolate, malt and praline, mojito, rose, tequila and citrus, coconut, bitter almond 70%, dark sour cherry and milk and honey. These beautiful looking special chocolates are available for pick up only at The Inn at Pound Ridge in Westchester. You may also want to book a table for a romantic spot by the fireplace. This restaurant is filled with warm tones and intimate spots to entertain your special Valentine.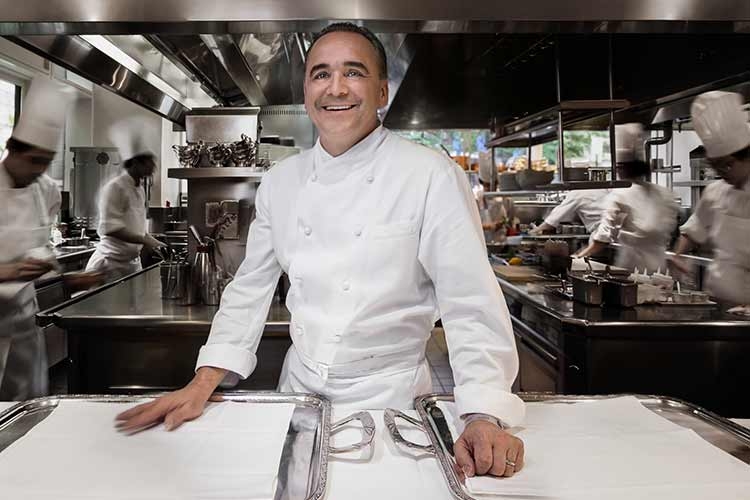 http://www.theinnatpoundridge.com/
WEEKLY FLOWER FARM SHARE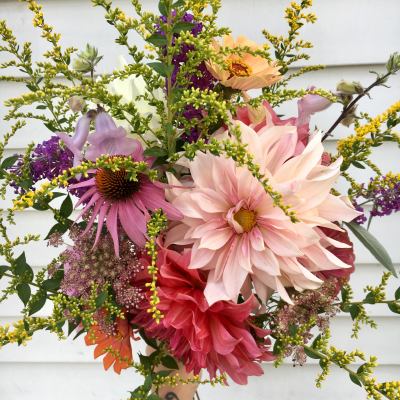 This local farmer has something beautifully unusual to offer. The Sweet Earth Flower & Herb CSA works the same way as a vegetable farm CSA. Members pay for the season to offset the seed and planting expenses and then get weekly bouquets of loosely arranged flowers and the option of an herb bunch. The field flowers and herbs are grown in their gardens naturally without the use of any synthetic chemicals and nurtured using biodiversity and sustainable practices. Flowers are usually picked the same morning as members get their share so you can expect 5-10 days of fresh, assorted blooms each week. Members can choose from different packages. This flower subscription makes for a great Valentine's Day gift for a loved one or yourself.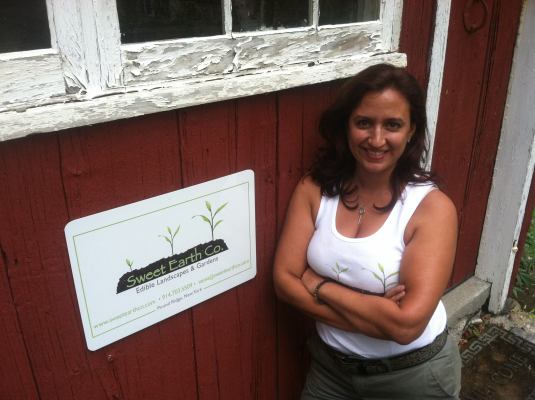 https://sweetearthco.com/we-grow/csa-flower-herb-share/
Hoping this gives you a few new ideas for your sweet Valentine! No matter who the lucky recipient is, I am sure you will be rewarded for your thoughtfulness. Love is in the air. Happy Valentine's Day!
Donna Monaco Olsen – As the program coordinator for Westchester Community College's Continuing Education program, "A Taste of Westchester," she designs more than 100 cooking classes each year by recruiting chefs for educational demonstrations in their restaurants. Donna is an experienced food writer, including sharing the "lessons learned" from her program. She currently holds a full time position in the education field and in conjunction with being an accomplished Market Research Professional, her skills have now translated to the food world. She focuses on food education, both by sharing cooking information and techniques, and by heightening culinary appreciation. Her former "Chef's Tip" blog for LoHud Food shared special hints from the Taste of Westchester program. She also reviews many restaurants during Hudson Valley Restaurant Weeks. Donna also develops and contributes recipes for cookbooks and several recipes have been included in a new fish cookbook. She is an avid baker and a former cake decorator who created many custom designed specialty cakes. She can be found on FaceBook or Instagram for you to follow the food. Join her for a class! Current class schedule. http://www.sunywcc.edu/continuing-ed/lifelonglearning/career-prep-certificate-program/a-taste-of-westchester/