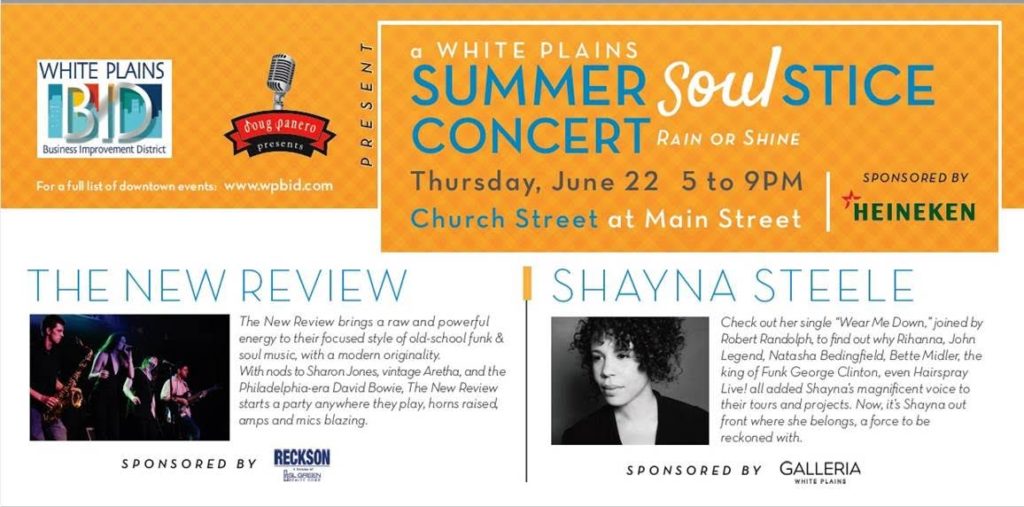 TOn June 22 at 5:00 PM the White Plains BID and Doug Panero Presents Will
host a free summer soulstice concert at Church Street between Main Street
and Hamilton Avenue. Come here the soulfull sound of the New Review and
listen to Shayna Steele who has sung with Rhiana, Natasha Bedingfield and
John Legend. There will be plenty more food and Heineken Beer on hand to
quench your thirst and satisfy your hunger. Don't miss this great event.e Summer Soulstice Concert on Thursday, June 22 ushers in the latest sunset of the year with free live music from two stellar breakout bands, click on the links below. Rain or shine, a slice of downtown White Plains will transform into a block-rockin' outdoor venue, complete with delicious food from La Bocca Ristorante, also serving well-known brews along with Sofrito White Plains. Wristbands permitting guests ages 21+ to drink alcohol outside are $5.

There is an abundance of live curated music to discover this summer in downtown White Plains and it all starts on June 22 with Summer Soulstice Concert on Church Street at Main Street, then continues every Thursday night throughout the summer at City Center.