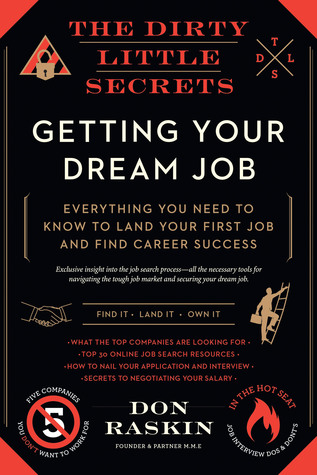 I sat down with Don Raskin, author of the newly released book "The Dirty Little Secrets of Getting Your Dream Job". Through real life examples, often times humorous, Don clearly describes the steps required to set entry-level job candidates apart from the pack. A #1 Hot New Release on Amazon this April, this book is a must read for anyone thinking about their job future, whether seeking an ideal summer internship, to graduating from college, moving jobs, or changing careers. This book is also especially insightful to parents of recent college graduates looking for all the dirty little secrets of getting their dream job.
Stacy: When you reach out to a candidate after reviewing their resume, what are you looking for before meeting them?
Don Raskin: Business operates at the speed of light. So do the people in business. Because of that, I want to hire candidates who understand that and have a sense of urgency. That means if I reach out to you and ask about your availability to come in and interview, you need to respond to me within one to two hours. I reached out to a candidate very recently who responded to me two days later. She indicated that she was very interested in the job, but the amount of time that passed before she answered my email made her a less attractive candidate. I feel that your sense of urgency in the interview process is often an indication of your sense of urgency on the job. At the entry-level position, a sense of urgency is critical to success.
Stacy: What advice would you offer May 2016 college graduates when they step into the interview room?
Don Raskin: You have a key objective in any interview. That is to occupy a place in the mind of the interviewer that is unique and beneficial to the job for which you are interviewing. Remember, the interviewer will be meeting several candidates, all very good, but all very similar to one another. During the interview, the interviewer is thinking about the qualities that he or she is looking for in a candidate that they believe will make that candidate successful on the job. I interviewed a young woman for an entry-level account job. During the interview, she told me that she was detail oriented and obsessed with writing everything down. This was very important and an indicator that this candidate could be successful in the job, mainly because that was a quality that was very important about the job. But then she went one step further.She proved it to me. She took out a composition style notebook and showed me page by page how she wrote everything down so she could follow up on her tasks and make sure they were completed. If you position yourself well, you will be remembered. If you prove it, you won't be forgotten.
Stacy: With so much competition for entry-level jobs, what can a candidate do to stand out from the pack?
Don Raskin: I have a saying in my office that if you are doing what is expected of you, you aren't doing enough.  That's because anybody can do what is expected of them, but candidates that impress and get hired go beyond that. While many candidates think that going online and researching the company and using that information in an interview is a wow, today, it really isn't. That is because it has become what is expected of you. But if you do that plussomething extraordinary, that is how you get yourself hired. I recently interviewed a young woman for a job working on our fast food account. She started the interview by telling me that she took a train forty-five minutes to the nearest restaurant so she could experience the food, the service, the value for the money, and the ambience. That was a wow for me.
Stacy: How many questions should a candidate ask in their interview?
Don Raskin: Many entry-level candidates believe that there is value in quantity when it comes to the question and answer phase of the interview. There isn't. Three to four smart, well thought out questions will take you a long way, and much further than eight to ten typical questions. Challenging questions can often be the best, mainly because the interviewer will respect you for asking them. I interviewed a woman who asked me what my company's new business strategy was over the next two years. It was a challenging question but I respected her for asking it because the answer potentially impacted her well-being in the company.
Stacy: If an entry-level candidate is offered a job and a salary, should they take it or negotiate?
Don Raskin: Would you rather make forty-five thousand dollars a year or fifty thousand dollars a year? How about sixty thousand dollars or seventy thousand dollars a year? The difference in your starting salary can be how well you negotiate. Most entry-level candidates are very uncomfortable negotiating salary. Flip this and become very confident when negotiating your salary. The way to do this is by doing your homework. Find out exactly what the industry standard is for the job you are interviewing for. Ask recruiters. Look at salaries on job sites for the type of job you are interviewing for. I recently asked a candidate "What is your salary requirement?" His answer was "Based on my research of this position, the industry standard is fifty to fifty-five thousand dollars a year. Because of my relevant internships, I would require fifty-five thousand." That's a great answer because it was fact based, and showed that he did his homework.
Know a college graduate looking for entry-level job help? Buy "The Dirty Little Secrets of Getting Your Dream Job" by Don Raskin. It is available at major bookstores like Barnes and Noble and online at Amazon.